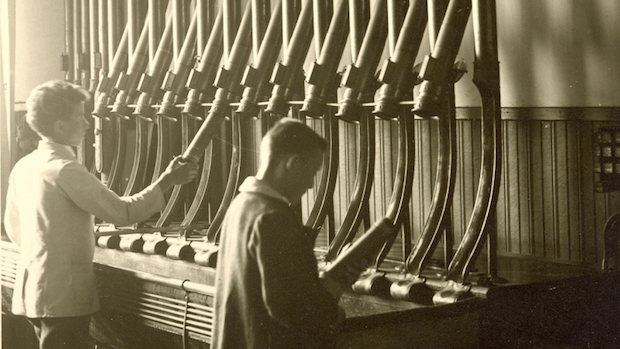 Connectivity Contradictions
Recently, I've been collecting stories from people who held the same type of job before and after the introduction of email. Something that struck me as I sorted through these recollections is their variety.
Email was a miracle to some.
For example, I talked to a woman who has spent many years in mergers and acquisitions. These deals, it turns out, require large contracts to be received and sent with urgency at unexpected times.
Before email, this meant weekends camped out at the office.
"If I was expecting a new version of a merger agreement, I would have to stand outside the fax room waiting for my 200-page document and then call to ask the other side to re-fax any missing pages," my source recalled.
"If there was even a possibility that I would be needed, it made no sense to go home…people would sleep at the office."
With email, these same urgent documents could suddenly reach her anywhere — greatly reducing time wasted squatting by the warmth of a fax modem and increasing time with her family.
"Email has been a plus," she concludes.
But email was also a curse to many others. 
One teacher I spoke with, for example, told me about how the arrival of email made teachers at her school suddenly available to parents in a way they never had been before.
The school eventually instituted a policy that all such emails must be answered within 48 hours.
"Email exploded," my source recalled. "My planning period was spent reading and answering emails…forget planning. [It became] a huge distraction from the already very difficult job of teaching."
A Useful Heuristic
How do we make sense of these contradictions?
As I sorted through more stories like the above an interesting pattern emerged.
Email seems to be at its best when it directly replaces a professional behavior or process that existed before email's rise.
For example, in mergers and acquisitions, the urgent and hard to predict delivery of complicated contracts has long been a necessary and important behavior. Sending these documents by email is much easier than relying on fax machines.
On the other hand, email seems to be at its worst when it helps instigate the sudden arrival of a new behavior or process that didn't exist before.
In teaching, for example, pre-email parents didn't have nor did they expect ubiquitous access to their children's teachers. There was no pressing pedagogical or parental need for such access.
Once teachers got email addresses, however, this new behavior emerged essentially ex nihilo and began to cause problems.
On reflection, this heuristic makes sense…
If a behavior or process has been around for a long time in a given profession, it probably serves a useful purpose. Therefore, if a technology like email can make it strictly more efficient/easy, then it's a clear win.
By contrast, when email helps instigate a new behavior or process, this development tends to occur in a bottom up fashion. That is, no one identifies in advance the new behavior or process as being something that's useful — it's instead driven by in-the-moment convenience and happenstance. (For more on this idea of unguided emergence see Leslie Perlow's discussion of "cycles of responsiveness" in Sleeping with Your Smartphone.) This is not a great way to evolve professional practices, so we shouldn't be surprised that the results are often exhausting and counterproductive to those forced to live with them.
This is not to say that we shouldn't develop new behaviors and processes in our professional lives. But we should be wary of those that emerge without our explicit consent. Email, in this accounting, should be a source of concern not because it's intrinsically bad, but because it's so easy and convenient that it tends to encourage the emergence of these new unguided and often draining behaviors.