The Book(s) of Daniel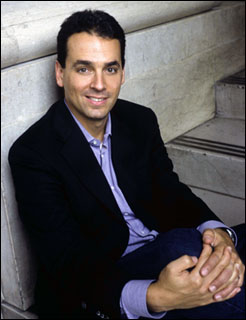 If you don't know Daniel Pink, you should. His bestselling books, Free Agent Nation (2001) and A Whole New Mind (2005), heralded the arrival of the conceptual age. Dan has also written on issues of business and technology for The New York Times, Harvard Business Review, Fast Company, and Wired.
His full biography reads like a Zen Valedictorian, post-grad adventure tale. He attends Yale Law School then never practices a day of law, deciding, instead, to bum a ride out to Washington. Soon he's a vice-presidential speech writer. He leaves that job to write two of the most important business books of the last decade. He then wins a fellowship to move to Japan and study the Manga industry.
Enter Johnny Bunko
Perhaps most exciting for Study Hacks readers, however, is his latest project, the new book: The Adventures of Johnny Bunko: The Last Career Guide You'll Ever Need (illustrated by Manga hotshot Rob Ten Pas). In Bunko, which tells the story of a young graduate receiving workplace lessons, Dan lays out six core pieces of advice for making it happen in the real world. As someone who works and writes a lot about these issues, I can say with conviction: this is some of the most dead-on, effective young career advice that I have ever read. (Don't take my word for it, you can preview the rules here and read the first chapter here.) The Miami Herald, perhaps, puts it best: "[Johnny Bunko] blows away all the rest with its clarity, simplicity, and intelligence."
As you can imagine, I was quick to get in touch with Dan. I asked him what advice he had for a current college student looking to jumpstart a Pink-esque career after graduation. He was kind enough to respond.
The interview follows…
Your own post-college path seems serendipitous. How did you stumble onto this path. And once on it, how did you keep moving in such an interesting direction?
You've got it right. There was a lot of stumbling and serendipity. Since I knew I wasn't going to practice law, I decided to go into what I then found most interesting: politics. I worked on a number of political campaigns as a policy and communications person — and then, yes, stumbled into speechwriting. What happened is that I wrote a few speeches. They weren't awful. Then they asked me to write a few more and before I knew it, I was a speechwriter. I got reasonably good at it, did it for awhile, but then got sick of the b.s. of politics. At that point in my life, I was becoming deeply interested in business and technology — so I decided to go out on my own and write about those topics.
All of the books and most of the articles I've written since then have really emerged from pursuing the things I was curious about. That's a key. Curiosity. I tried to follow my curiosity and see where it took me. Also — and this is important — I decided that since so many people could outsmart me, nobody would outwork me. As you know, I'm a big believer that persistence trumps talent.
What's the biggest myth about the post-graduation search for a job that you would like to dispel?
That you need to have a carefully articulated plan. Too many people make career decisions for instrumental reasons — because they think what they're doing will lead to something else. Not enough people make decisions for fundamental reasons — because of the value of the activity itself.
The dirty little secret is that instrumental reasons don't work. It's way too tumultuous out there. The people who really flourish are those who make decisions for fundamental reasons. They have to live with a certain amount of ambiguity about not knowing what's going to happen next. But that keeps them alert to unexpected opportunities and the serendipity you talked about earlier.
What lessons would you give to Johnny Bunko's little brother who is, let's say, a rising college sophomore?
1. Begin the process of discovering what you love to do and what you're great at — what, in some sense, you are on this planet to do. You won't necessarily find the answer in college. But asking that question will put you on a promising trajectory.
2. Pick the professor, not the course. In the hands of a good teacher, every topic can fascinating.
3. If you're in the arts, take a laboratory science course. If you're in science, take a studio art course.
4. Exercise. Seriously. Exercise is one of the few things in life that is uniformly, unequivocally good for you.
Thank you so much for your time!