Dissertation Hell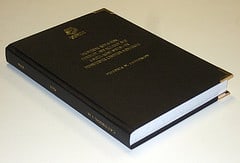 Writing a doctoral dissertation is a peculiar endeavor. There's a general understanding, suspended out there in the stress-fraught ether of graduate student life, that this is supposed to be a brutal process. Consider, for example, the popular blog Dissertation Hell. Its tagline reads:
A place to rant publicly but anonymously on the many tortures of writing a dissertation.
In a recent post, titled A Last Day in Hell, an anonymous graduate student notes:
Many asked how I balance [my dissertation] with my life. The truth is I never did! … I did this for three or so months, 8 to 14 hours a day, every day of the week.
In a particularly dark twist, the student adds:
My aunt died of leukemia during that time, but I had promised her I would finish, so the night I found out I doubled my efforts and kept on going. EVERYTHING got put on hold.
Fortunately, during my own dissertation process, I was able to observe most of these frantic conventions with some semblance of objectivity. Having already written two books, and published over 20 peer-reviewed papers in my field, the task, while demanding, seemed far from "hellish." But it did get me thinking about the conventions of student life and how we handle work.
In this post, I want to share some thoughts on why these big student projects cause so much stress and a strategy for alleviating this suffering.
"Hard" vs. "Hard to Do"
I found writing my thesis to be similar to writing my books. It's an exercise in grit: You have to apply hard focus, almost every day, over a long period time.
To me, this is the definition of what I call hard work. The important point, however, is that the regular blocks of hard focus that comprise hard work do not have to be excessively long. That is, there's nothing painful or unsustainable about hard work. With only a few exceptions, for example, I was easily able to maintain my fixed 9 to 5:30 schedule while writing my thesis.
By contrast, the work schedule described by the anonymous grad student from above meets the definition of what I call hard to do work. Working 14 hours a day, with no break, for months on end, is very hard to do! It exhausts you. It's painful. It's impossible to sustain.
I'm increasingly convinced that a lot of student stress is caused by a failure to recognize the difference between these two work types. Students feel that big projects should be hard, so hard to do work habits seem a natural fit.
I am hoping that by explicitly describing the alternative of doing plain hard work, I can help convince you that the hard to do strategy is a terrible way to tackle large academic challenges. I urge you to take blogs like Dissertation Hell off your reading list, and instead remember the following hard work mantra:
Focus hard. In reasonable bursts. One day at a time.
Putting this simple formula into practice isn't trivial at first, but it gets easier with practice. (It is, for example, how almost every professional writer works). Most importantly, it's sustainable and compatible with a happy life.
How do you tackle big projects? How do you wish you tackled them?