Back to Basics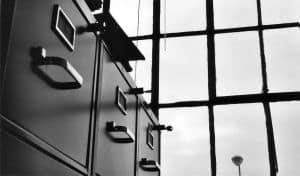 As the back to school season transitions from looming to present, it's time I turned our attention back to the technical details of becoming an outstanding student. In this post, I want to tackle a topic that's relevant on the very first day of your new semester: staying organized.
Here's the thing about student organization: what seems like a smart, comprehensive system to today you, will be later seen as a terrible prison that blackens your heart and steals your freedom by the future you mired in the middle of the semester. As you might have guessed, this future you will abandon your smart system and fall back into unorganized chaos.
I want to help you avoid this fate.
Below I describe a dead simple student organization system. It's a collection of the three basic rules that I've used for the past nine years to keep on top of the information in my student life.
Unsinkable Student Organization
This organization system consists of the following three rules…
Rule #1: One Class = One Notebook + One Folder.
Fans of the red book have heard this mantra before: The simplest way to organize your class materials is to have exactly one notebook and one folder for each subject. Every piece of paper handed out in class goes into the corresponding folder. All notes, study plans, administrative information, or any other original thought relevant to the course goes in the corresponding notebook.
(Note: If the professor allows you to take notes on your laptop, you should still buy a physical notebook to capture study plans, etc. Also, a physical notebook allows you to use the notebook method, which is perhaps my favorite study techniques of all time.)
Rule #2: Settle for Bare Naked Filing
For everything that doesn't belong in a course folder — from your cell phone contract to the research for a major project — use the bare naked filing system that I introduced in this previous post. The core idea of this system to keep a big box of manila folders next to your desk. Every piece of paper you receive has to go into some folder. If an appropriate folder doesn't already exist for the paper in question, label a new folder and stick it in. There's no need to file these folders with some fancy scheme. Instead, do what I do: keep them in a pile. You're a student, not a dentist's office — you don't need complicated filing cabinets to find what you need.
Rule #3: Use a Calendar Backup Notebook.
As I've pleaded many times before, you must keep a calendar that you check at the same time every day. (I like Google's calendar, but anything works.) This simple addition to your student life will save you significant stress.
In addition to this calendar, however, my unsinkable organization system asks that you keep a small spiral-bound notebook with you at all times. When you encounter a date, appointment, or deadline, record it in this notebook. When you next review your calendar, add the dates from your notebook. (If you use a time management system like GTDCS, this can be the same notebook you use for task capture.) This ensures that you're never scratching your head to remember what you're responsible for and when.