Note (8/31/09): I'm leaving tonight to give a research talk in Bologna, Italy (yes, it's a tough life I lead). I'll almost definitely have internet access, but I'll also be quite busy, so I give my typical warnings about being slow to post, answer e-mails, and moderate comments over the next week.
The (Over) Committed Student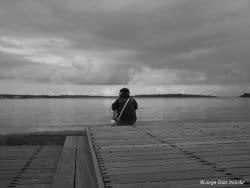 Last week, I received an e-mail from a student who I've advised in the past. His new semester was about to start and he was worried about his schedule.
"I think I'm overcommitting myself," he told me. "I considered dropping some activities, but it's hard because I want to do them all."
He then asked me to review the following "time budget" that he created for his schedule:
5 courses — 24 hours/week in class
Lab volunteering — 15 hours/week
Peer educator and mentor — 10 hours/week
Exercise — 6 hours/week
Hospital volunteering — 3 hours/week
Executive of a club — 5 hours/week
Public speaking club — 8 hours/week
After reading his e-mail, I realized it's time for me to revist one of the main themes preached here on Study Hacks: simplicity is beautiful.
The idea that doing less can actually make you more impressive is, of course, the cornerstone of my Zen Valedictorian Philosophy. I've also argued that doing lots of extracurricular activities is meaningless for your job hunt, and that overloaded course schedules are like a devestating virus that can destroy your life.
In this post, I want to add a new strategy to your minimilast arsenal.
The Rule of One
My response to the student from above is that, in my opinion, he's overcommitted. His schedule will inevitably cause stress and yield little tangible advantages in terms of his perceived impressiveness. He's following a diligence strategy instead of an ability strategy, and he'll eventually pay a price for it.
My advice for this student is to follow what I call the rule of one. This rule includes the following three requirements:
One Major: I don't want to hear about your nonsense plan to combine a bio major with a music major so you'll be perfectly positioned for a lucrative job studying the effects of Mozart on bacteria. Choose one major, then use your extra time to become an A* student.
One Extracurricular: Having a laundry-list of activities has become so outdated as a strategy that it's almost embarassing at this point. Choose one pursuit and then spend four years pushing it somewhere exceptional. If it helps, you can ease into this lifestyle with an activity vacation.
One Hour of Focused Relaxation Per Day: When constructing your autopilot schedule, block off one hour each day for what I call focused relaxation. This involves going somewhere quiet where you're completely disconnected — no phone, no e-mail, no iPod — and doing something you enjoy. Read a book. Walk through the woods. Take notes on big ideas. If you do this every day, not only will your stress decrease, but you'll also gain a sense of control over your life which will pay huge dividends as the demands you face increase.
It's impossible to follow the rule of one and still feel overwhelmed or stressed. Even better, if you couple this minimalist approach with a dedication to focusing hard and doing exceptionally well at your small number of pursuits, you'll actually increase your impressiveness.
The beginning of a new semester is a perfect time to make new resolutions about your student lifestyle. I implore you to give this approach a try. If you do, let me know — I want to hear your story.