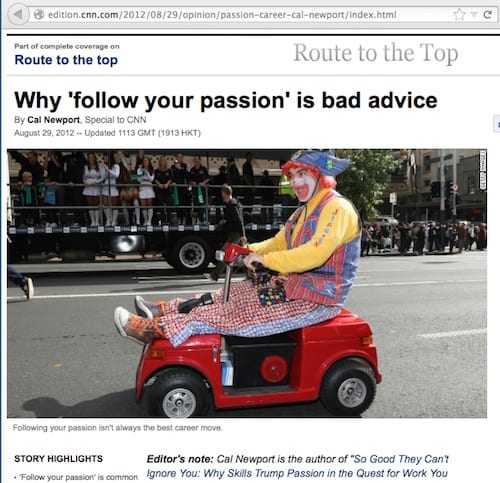 Concerning Comments
Earlier today, CNN.com published an article I wrote. It summarizes the main idea from my new book: "follow your passion" is bad advice.
What interests me are the comments on the CNN website. Here's a sample quote:
Following you passion should be a given. What's the point of life if you're a robot on a factory line…
As Study Hacks readers will notice, this commenter completely misunderstood my point. He thought I was arguing that you shouldn't aim for a career that you feel passionate about. This couldn't be more distant from the truth. I think passion is great. But it's not something that you "follow" (which implies you can identify it in advance). It's instead something you have to purposefully cultivate over time.
The key observation here is that the majority of the 60+ comments on the website made a similar mistake. I think this tells us something important about the American cultural conversation surrounding career satisfaction. The reason "follow your passion" has such a hold on our thinking is that many mistakenly equate this strategy with the generic and near-tautological statement that it's good to love your job.
Of course it's good to love your job. But "following" your passion suggests something more specific — a strategy that's not supported by the evidence.
My challenge here is clear: To successfully spread this idea to a larger audience I need to be careful to separate the goal of developing passion from the flawed strategy of following it. (If you want to help me in this challenge, consider retweeting the CNN article with a more accurate description; e.g., "Don't follow passion, cultivate it").