A Geek Goes Back to Basics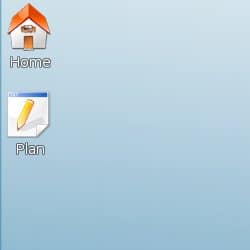 I recently received an e-mail from a college freshman. He described himself as "kind of a techie person," which he then unambiguously confirmed by noting that his productivity system made use of Evernote, his iPhone, a calendar application, and an online to-do list service.
"I like adopting new gadgets and technology," he told me. "But I feel it's becoming more of a hindrance than help."
Fed up with the maintenance of his crowded stable of productivity tools, this student recently tried an experiment in simplicity: he used only a paper notebook to informally organize his day.
"These were the most productive days of my life," he said.
Does this mean that the student was converted to productivity Luddite? Not quite. Though he had enjoyed immense productivity, he still felt a creeping dread about his new approach.
"I'm afraid that if I only depend on paper and pencil I'll lose something important or it'd be too hard to navigate after a few days."
This student's problem is a common one: how do you balance high-tech rigid solutions with low-tech informal solutions when organizing your student life?
Freestyle Productivity
Having spent the last decade systematically experimenting with student organizational strategies, I've found that the following balance produces the most consistent results:
High-tech and highly-structured solutions are best for capture.
Low-tech and loosely-structured solutions are best for planning.
I use the term "capture" in the GTD sense of the word: a common place where all of the "stuff" in your life can be reliably stored so that your mind doesn't have to worry about it. This includes tasks, appointments, and projects.
As the student from above noticed, it can be hard to use simple paper-based solutions for capture. The number of tasks in your life, for example, can be voluminous and soon overwhelm notebooks — transforming them into a mash of crossed out, unclear jottings.
I prefer simple online solutions that can be accessed from any computer. I use google calendar and google tasks because I can use them from my gmail account, which is the one website I know I will return to many times a day.
Though these tools are great for capturing stuff, they also turn out to be terrible for planning what to do with this stuff. Most people who've tried a systematic approach to planning know what I mean. (Who among us hasn't assigned priority-based dates to our task list, only to find that we spend more time resetting deadlines than actually doing the work?)
As the student from above also discovered, a looser approach to planning works better. He used a blank notebook to organize his days. I happen to be a firm believer in the use of a plan.txt file, which is similar. As I explained in this earlier post, each Monday I record in a simple text file a plan for my upcoming week. There are no rules for this plan. Sometimes it includes pages of discussion about changing the rhythm of my work flow, other times it's short and practical (e.g., "Monday is all about submitting this paper, Tuesday is about experimenting with the data collection tools…").
The important point is that I trust my mind's ability to build the type of plan that best suits the current situation. It will always outperform a rigid system.
This freestyle approach provides an answer to the quandary faced by the student from above. The reason he feels conflicted is because neither of his productivity approaches are best in isolation. He should continue to use his iPhone and fancy calendar applications to capture and wrangle the stuff in his life. At the same time, he should allow himself the flexibility to make weekly plans that are not constrained by strict rules.
A blank sheet of notebook paper, as he learned, can outperform even the fanciest scheduling system, so long as the work to be scheduled is held somewhere safe.
The Freesytle Lifestyle
I first promoted this approach to productivity in this post from last November. (I recommend that you read the original post for more detail and examples.) The idea is important enough, however, that I thought it was worth reiterating here.
Before concluding, I want to address the most common complaint about this philosophy: notably, the worry that freestyle productivity clashes with my canonical advice on autopilot schedules, time blocking, Sunday rituals, and similarly structured approaches to planning.
Here's the important observation: freestyle productivity doesn't eliminate structure in your planning, it just eliminates its status as unchangable. It's perfectly fine for your plan.txt to say, for example, "I am going to keep using my autopilot schedule this week because it seems to be really helping." At the same time, it's also expected that your plan.txt might say, "I need to make the following changes to my autopilot because the timing is not working out," or even "I'm dropping this approach altogether to instead try…"
In other words, the collection of productivity tactics I've presented on this blog can be seen as an arsenal of weapons at the disposal of your flexible and always evolving work plan.