The Grade Whisperer is an occasional feature in which I use the Study Hacks philosophy of do less, do better, and know why, to help students overcome their academic problems.
Feeble Focus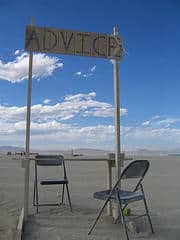 A student who I'll call Ron recently sent me an e-mail with an ominous title: Loss of Focus.
"I really enjoy most of my courses," he started. "And I'm definitely not in the wrong major…But there are some courses that I find extremely difficult and uninteresting."
There's nothing surprising about this observation. As I've said before, you have to expect that not every course is going to incite scholastic reverie — some subjects you just have to grin and bear en route to becoming "educated."
Ron, as it turned out, was having trouble with the "grin and bear" part of this equation.
"I sit down, stare at the books, and nothing happens," he told me.  "After reading and solving problems for 15 minutes I get bored and distracted, start surfing the web, checking email or such."
He concluded with a key question that I receive often:
You mention that hard focus is necessary. I agree, but my question is: How can I focus on difficult, unenjoyable, painful tasks?
It sounds like a job for the grade whisperer…
The Scatter Shot Attack
As I explained in my original post on hard focus, learning to concentrate when you don't want to is a practiced art. A lot of students, however, are so turned off by hard work that they can't even muster the small blocks of hard focus needed to start building toward something more substantial.
I have time-tested solution to this issue. I call it the scatter shot attack because it's comprised of a large number of small tactics — not one magic bullet.
For example, here was my advice to Ron:
Use Your Autopilot: Make sure your dreaded work is tackled within a trusted autopilot schedule. Having to decide each week when to do this work is an extra hurdle that you want to avoid.
Use Location: Identify a unique isolated location for each type of dreaded work. When in that location all you're allowed to do is work. Absolutely no Internet will be tolerated. If you want to go online, or otherwise change mental gears, you have to physically leave the location. No exceptions.
Be Reasonable: Make sure that you're scheduling more than enough time for each dreaded task. If your schedule is unreasonably tight your mind will recognize this reality and summon intense resistance.
Embrace Specificity: Throw out your vague plans to "do reading" or "work on a problem set." If you want your mind to cooperate, you need to reduce your work to a set of unambiguous and specific actions that will clearly fit into the time set aside.
(Wo)Man Up: Finally, you need to recognize that throughout life you're going to have to do work that you don't want to do. This is perhaps the defining trait of being an adult. College is as good a time as any to recognize this fact, man up (or woman up, as the case may be), and just do it, even if you don't want to. You're not sixteen and living at home anymore…
I haven't yet heard back from Ron, but I've recommended this same scatter shot approach to dozens of students who suffered from similar issues. If you know what you're supposed to be doing, but just can't make it happen, don't seek a magic bullet that will make things instantly better. Instead attack the problem from multiple angles until your mind has no option but to submit.