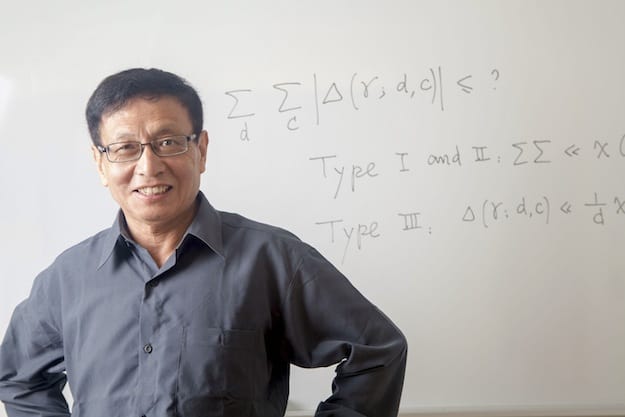 Bound Gaps Solved
Last year, Yitang (Tom) Zhang published a paper in the Annals of Mathematics titled "Bounded Gaps Between Primes." The abstract for the paper is simple enough for a non-mathematician to understand. It states that there are infinitely many pairs of consecutive prime numbers that are no more than 70,000,000 apart.
Don't let the simplicity of the claim fool you: people have being trying to prove something like this for over 150 years.
At the time when Zhang submitted his result he held a "tenuous" temporary position in the mathematics department at the University of New Hampshire. As reported in Alec Wilkinson's elegant New Yorker profile, before a friend set Zhang up with the New Hampshire position, he bounced around odd jobs, including a stint keeping the books at a Subway franchise.
Soon after his result was published, everything changed. His employer (wisely and with haste) made him a professor. He was invited to spend six months at the Institute for Advanced Study and accepted lecture invitations across the country. That same year, he was awarded a MacArthur "Genius" grant.
What caught my attention about Zhang, however, was not the elegance of his result (which, as a lowly applied mathematician, I cannot come close to understanding) but the elegance of his work habits.
A Deep Life
Zhang began to work on bound gaps (as it's often called) in 2010. He didn't find his "door" into the problem until the summer of 2012, when, standing in a friend's backyard in Colorado, smoking a cigarette and watching for deer, he finally saw a way to penetrate its knotty interior.
In that two year period, between when Zhang started on the problem and had his first breakthrough, he spent much of his waking life simply thinking. Here's Wilkinson's description of Zhang's "method":
A few years ago, Zhang sold his car, because he didn't really use it. He rents an apartment about four miles from campus and rides to and from his office with students on a school shuttle. He says that he sits on the bus and thinks. Seven days a week, he arrives at his office around eight or nine and stays until six or seven. The longest he has taken off from thinking is two weeks. Sometimes he wakes in the morning thinking of a math problem he had been considering when he fell asleep. Outside his office is a long corridor that he likes to walk up and down. Otherwise, he walks outside.
I don't have a piece of pragmatic advice to extract from this story. Most people cannot spend two years thinking about the same thing for ten hours a day, and it wouldn't help their professional life much if they did.
But I think Zhang's story highlights the beauty and potential of a mind left to do nothing but think without interruption at its highest capacity…
(Photo from the John D. & Catherine T. MacArthur Foundation)