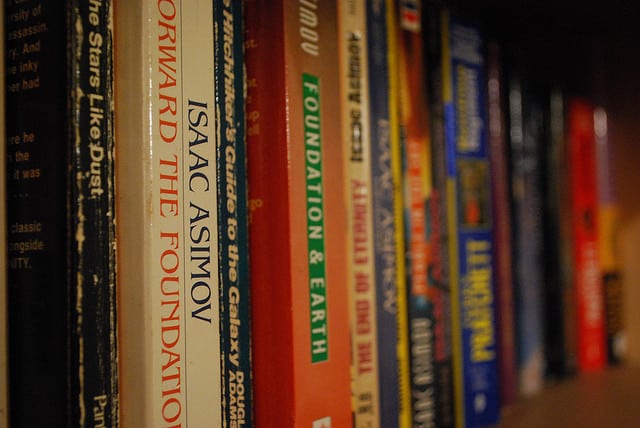 Asimov's Lost Essay
In the late 1950's, Arthur Obermayer worked for Allied Research Associates, a cold war-era science lab. During this period, his employer received a grant from the Advanced Research Projects Agency to "elicit the most creative approaches possible for a ballistic missile defense system."
Obermayer was a longtime friend of the famed science fiction writer Isaac Asimov. Figuring that Asimov might know a thing or two about creativity, he brought him into the project.
The result was an essay, penned by Asimov, on the topic of creative breakthroughs. Oberymayer recently brought this essay to the attention of the MIT Technology Review magazine, which reprinted it in full.
The piece contains several original notions, but what caught my attention was its take on where creative ideas come from.
The Creativity of One
Every since ad man Alex Osborn introduced the brainstorming technique in the early 1940's, creativity has been sold as a collaborative process. This is a big part of the reason, for example, why Facebook is creating the world's largest open office in its new headquarters — people need to serendipitously bounce ideas off of each other to stumble onto breakthroughs.
Asimov disagrees:
My feeling is that as far as creativity is concerned, isolation is required. The creative person is, in any case, continually working at it. His mind is shuffling his information at all times, even when he is not conscious of it.
To have people sit in a room and jot ideas on butcher paper, or to chat idly at their open office work tables, in other words, is not likely to generate deep insight.
Indeed, such collaboration can even hurt this goal:
The presence of others can only inhibit this process, since creation is embarrassing. For every new good idea you have, there are a hundred, ten thousand foolish ones, which you naturally do not care to display.
This doesn't mean, however, that bringing creative people together is worthless. As Asimov elaborates, group meetings, if kept small (he estimates five people as an ideal size), do have a use.
Just not the one we're used to hearing.
The goal for creative meetings is not to come up with new ideas, he argues, but instead to transfer the raw material for these ideas between participants. As Asimov explains: "No two people exactly duplicate each others' mental stores of items."
The goal of collaboration, in other words, is to quickly increase the store of material that the creative can then work with once returned to his or her isolated cogitation.
As someone who makes a living on creative insights (how else to describe proof solving), I'm sympathetic to Asimov's take. While group activities like brainstorming might be useful for lightweight projects, like coming up with a new slogan for an advertisement, if you're instead trying to solve an unsolved proof, or, more pressingly, improve ballistic missile defense, there's no way to avoid learning hard things and then thinking hard about what you learned, hoping to tease out a new connection.
This is fundamentally a deep process — one that no amount of brainstorming sessions or distracting open office spaces can short circuit.

(Photo by Firas Wehbe)