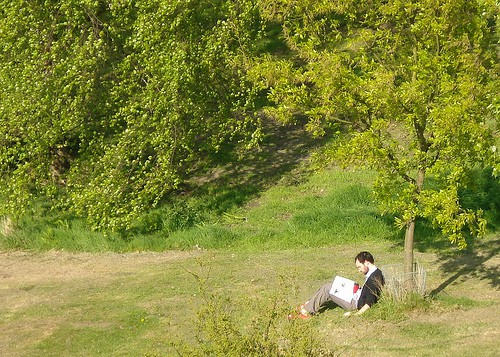 Deep Work After Hours
One lesson I learned after becoming a professor is that producing intellectual insights at a professional pace requires deep thinking beyond the confines of the normal workday. Though I'm quite good at protecting and prioritizing deep work against the encroachment of the shallow, the depth I can fit into my regular schedule is not sufficient.
My strategy is to maintain, at all times, a single, clear problem primed and ready for cogitation. I then set aside specific times for this deep thinking in my schedule outside work. I use many (though not all) of my commutes for this purpose. I also leverage long weekend dog walks and the mental lull that accompanies time-consuming house work.
(People sometimes ask what I do with the free time I preserve by not using any social media or web surfing. This is a large part of my answer.)
Quality Over Quantity
This habits adds an additional half dozen hours (on average) of deep thinking to my week. This might not seem like a lot, but more important than the number of hours gained is their quality.
Because this deep thinking is freed from the context of an otherwise draining workday, I can often muster more mental energy than, say, at 3:00 on a Thursday afternoon.
Another advantage is that these blocks are short. This allows me to make many fresh attacks on a problem, which is generally more likely to generate a breakthrough than combining that time into one long slog.
Caveat Emptor
A word of warning concerning this approach is that there is significant difference between having a primed undecidable task to work on after hours, and just letting your normal, shallow obligations bleed into your evenings and weekends.
The former can be invigorating while the latter is draining and often devolves into stressful workaholism.
Put another way, I think fixed-schedule productivity and work shutdown routines (and all the benefits they bestow) are fully compatible with this habit — at least, in my experience.
This being said, this habit is not always innocuous. It's easy sometimes for it to get out of hand.
For example, sometimes, when I get close to a solution, I get a little obsessive in my thinking and it bleeds into whatever else the family is doing: at which point it becomes noticeable (and annoying) to those around me. If I spend more than a day or two in this state, I will burn out — which isn't pleasant.
But usually, this extracurricular contemplation remains well-contained.
Bottom Line
To conclude, I'm not sure if this approach generalizes much beyond the weird world I live in where people pay me to prove things (though I suspect it does). But at the very least, it provides some insight into the often grinding (and occasionally exhilarating) pursuit of a career in the world of professional thinking.