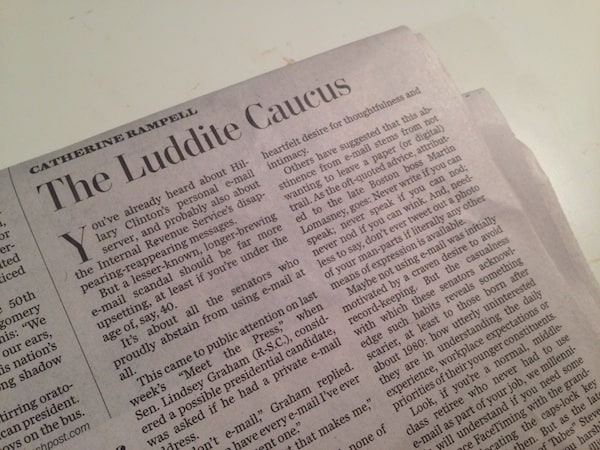 Redeeming The Luddite Caucus
Earlier this morning I was reading The Washington Post while watching the sun rise (I have two young kids at home: I find quiet where I can). A column by Catherine Rampell, titled The Luddite Caucus, caught my attention.
As I began to read, my interest transformed into concern.
In the wake of the recent Hillary Clinton e-mail story, many reporters, it turns out, have been asking other politicians about their digital habits. After reviewing these articles, Rampell reports that there are a surprising number of United States senators who rarely use e-mail — a list that includes: Lindsey Graham, John McCain, Pat Roberts, Richard Shelby, Orrin Hatch, and Chuck Schumer.
Rampell is shocked that so many senators "proudly abstain" from e-mail.
She accuses them of being "utterly uninterested" in "understanding the daily experience, workplace expectations or priorities of their younger constituents."
She describes the senators as displaying "mindboggling levels of societal incuriosity," to the point that this behavior should be considered "political malpractice."
She concludes by asserting that contemporary technology use is a "necessary" condition for understanding "good tech policy", rendering these senators unqualified to address laws that affect technology, privacy, labor, global competitiveness, and, for some reason, immigration.
As you might have guessed: I don't buy this argument.
To require a senator's personal involvement before he or she can be either "interested" or "qualified" to address a sector of our economy is an idea that quickly succumbs to reductio ad absurdum.
Only a quarter of senators served in the military. Are the rest uninterested in our armed forces?
Almost no senators are farmers. Are the rest unqualified to vote on agricultural subsidies?
And so on.
But quibbles with Rampell's line of reasoning is not my main concern. I'm more worried by the fact that many readers will, without much deliberation, agree with her.
This idea that you must embrace everything Internet, or be labeled incurious, out of touch, or even Ludditic has become ubiquitous.
This sentiment is harmful, and probably even damaging to our country's economic competitiveness.
This conclusion follows from an obvious point worth repeated reiteration: not all digital tools are useful to all people. To force everyone to use everything, or be deemed out of touch, will make many people worse at what they do.
Senators, for example, don't need e-mail. Their staffs do, but the senators don't. To be a member of the world's greatest deliberative body means that you're better off spending your time actually deliberating than checking your BlackBerry.
Do you really think John McCain or Chuck Schumer would somehow be better at their job if they spent more time cleaning their inbox?
My argument on this point has been consistent over the years: we need to take Internet technologies off a pedestal. They're simply tools, like a wheat combine or an architect's t-square.
For some people they're indispensable. For others they don't matter.
It's more important to turn our attention back to the metric that does matter universally: Are you creating value in the world.
This is what should concern us. Not whether or not I can easily find you on Gmail.