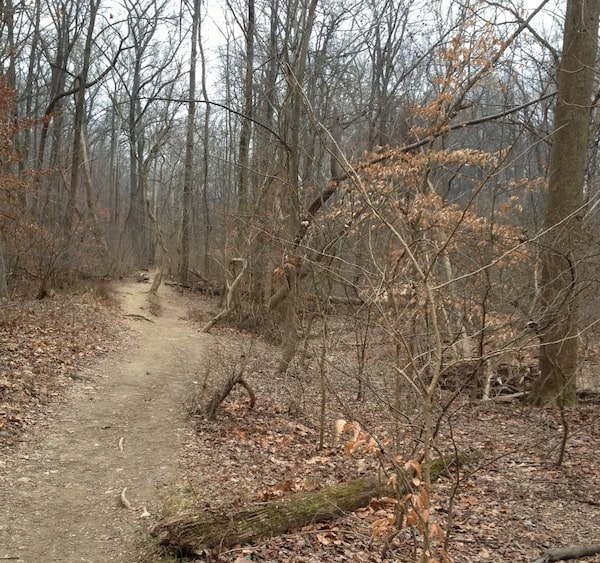 I've been writing posts for calnewport.com since July, 2007. This was soon after I finished all of my coursework and qualifiers for my doctorate at MIT, which I had tackled concurrently with writing and publishing my first two books. Which is all to say that by the summer of 2007 it suddenly seemed like I had a lot of free time on my hands. My solution to this state of affairs? This blog.
In recent days, in a fit of nostalgia, I've begun browsing my voluminous archive. I thought it might fun to every once and while briefly revisit a post from the past that I particularly enjoyed.
I'll  start with an entry from January, 2014. It's titled: "On Quiet Creativity," and it opens with me talking about hiking the trails near Georgetown's campus (see above), working on a thorny proof.
Here's the thesis I extracted from the experience:
"When I talk about my purposefully disconnected life, a common retort is that I'm missing out on the creative possibilities born of the frequent exposure to new people and ideas delivered through social media and related technologies.

But here's the thing, for the most part, this is not how high-level creative work is accomplished. It's not, in other words, lack of input that stymies creative breakthroughs.

…

What does stands in the way of creative breakthroughs — I'm increasingly convinced — is lack of time spent walking quietly with your thoughts, working and re-working your understanding of a concept in search of new layers of meaning."
A few reflections on this post:
When I wrote those words back in 2014, I was getting lots of pushback about the fact that I didn't use social media. It really did baffle and concern people. Today, my abstention is considered reasonable. It's amazing how much our society has shifted on this issue.
I still really believe in the idea of quiet creativity. Gathering inputs is the easy part. It's the long thinking, and rethinking, then thinking again that's really needed if you want to produce industrial strength insights.
I believe (but am not positive), that this is the paper that resulted from the long thinking walks described in that post. It ended up published in October of that year.