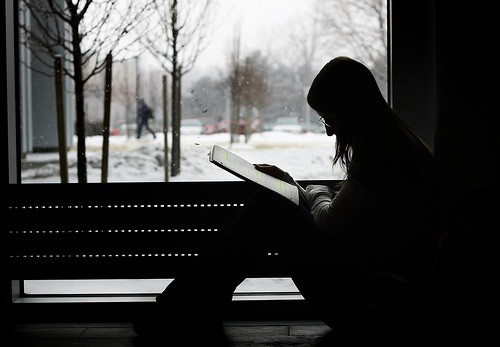 The Overwork Ethic
I recently received an e-mail from a freshman at the Illinois Institute of Technology. It began: "I'm trying to follow your advice and avoid killer semesters, but it seems kind of hard."
He then detailed his crowded course schedule, which included electrical engineering, physics, computer science, and an organic chemistry class, the last of which he described as "hellish," because it included a time-consuming lab in addition to regular problem sets.
"I know that on your site and stuff it says avoid doing shit like this," he admitted, "but I'm not really sure what to do."
This last line confused me.
If a student says he "doesn't know what to do" about a tough course schedule, you might expect he needs the courses to complete his major and graduate on time, or perhaps to meet the requirements of a graduate program. Clearly, however, physics, computer science, and organic chemistry can't all be part of the same major or program prerequisites. Furthermore, this student was in the first semester of his freshman year: how could he possibly be feeling credit pressure already?
When I dug deeper, it turned out that he had no particular reason to be taking those classes. In fact, as he later admitted, he arrived at college with a ton of AP credits, and could, if he so decided, coast to graduation early without ever taking a hard semester.
The real reason for his killer course load was that he was considering transferring schools, and felt, with an unquestioned certainty, that doing more was important for standing out. "I guess that having a schedule like this looks more impressive on my transfer apps," he said
The idea that killer schedules are necessary to be impressive was so deeply ingrained in this student that the idea of simplifying his course load never crossed his mind as an option.
This mindset is a problem that we must solve before we can make progress with the Romantic Scholar approach to student life, as it's near impossible to find fulfillment in your school work when you're constantly struggling to keep up with an overwhelming load.
To convince you to do less, however, I must first convince you that doing more is not a reasonable alternative…
The Standard Model of Student Impressiveness
Here's the model of impressiveness that most students believe to be true:
Difficult Course/Activity Load ==> Impressiveness ==> Interesting Job and Grad School Opportunities ==> Enjoyable Life
Let's call this the standard model of student impressiveness. Here's why it's important: A survey conducted last year by the American College Health Association reports that 39 percent of college students felt hopeless during the school year, 25 percent felt depressed, and 47 percent experienced overwhelming anxiety. (See David Leibow's recent Huffington Post article for more details on the study.)
The standard model of impressiveness explains these statistics. It leads students to a point where their course load is too much to handle, yet they believe that anything less cripples their chances of a good life. This is the type of conundrum that can drive a 19-year-old into some dangerous mental waters.
The good news is that the standard model is flawed. I want to present two arguments that support this claim — each attacking a different link in the standard model's chain of implication.
Argument #1: Hard Schedules Do Not Generate More Impressiveness
The first implication in the standard model says that hard schedules, both academic and extracurricular, make you more impressive to the outside world. As I've been arguing for years here on Study Hacks, this idea is a myth. (Indeed, my most recent book, How to Be a High School Superstar, can be read an extended argument for why doing more is a terrible strategy for college admissions.)
If you're unfamiliar with my past writing, here's the main thesis: people are more impressed by your ability to be a star at one thing than they are by your ability to juggle lots of hard things. Ability rules. No one cares about your diligence.
Here are some previous articles that detail this argument:
Argument #2: Deferring Happiness is an Addictive Habit
Let's now consider the final implication in the standard model, which says that landing an interesting job or graduate school opportunity will lead to an enjoyable life. This is the most important link in the chain, as, ultimately, the point of all this suffering now is so you can live a better life later (otherwise, what's the point of any of this?).
Here's where things get tricky. As I described in my recent open letter to students, the habit of deferring happiness can be hard to shake. If you adopt this approach as a student, it becomes significantly more difficult to drop it once you've entered the working world and the pressures of recognition mount. In a previous article, I called this the competence trap, and I argued it's one of the most dangerous obstacles between many ambitious young people and a remarkable life.
The most effective way to bypass this danger is to start practicing, before you enter the working world, a mindset that says: My happiness and satisfaction with life is a non-negotiable requirement; everything else I do must work backwards from this conviction. The easiest way to practice this mindset is to reject the school as a trial to survive mindset while still a student: take on a sustainable course load, and practice standing out while still preserving a sense of autonomy and time affluence.
Put another way: If tacking on a time-consuming extra major, or leading six clubs, is at the core of your strategy for being impressive, find a different strategy. Notice, I'm not arguing that you should give up on being impressive — on the contrary, I'm arguing that you should man (or woman) up about what strategies you'll tolerate for achieving this goal. This is what separates the remarkable from the accomplished.
If you master this mindset while in high school, college, or graduate school, you won't just be more happy during these student years, but you'll likely significantly increase the total amount of happiness you experience over your entire life.
In other words, doing less is not just about impressing employers, or avoiding a sophomore slump, it can be the foundation of a life well-lived. This is why our exploration of the Romantic Scholar approach to student life starts with this basic concept: it's the foundation on which everything else will be built.
###
This post is the second in my series on the Romantic Scholar approach to student life, which details a collection of strategies to transform school from a trial to survive into the foundation of a life well-lived. Roughly every other post on Study Hacks in the near future will be dedicated to this series.
Past articles:
(Photo by JSmith Photo)