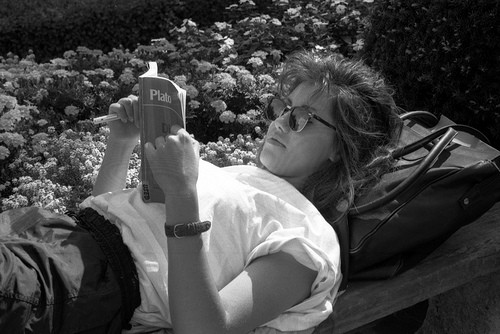 The Age of Wonder
Around midnight, on March 13, 1781, William Herschel, an amateur astronomer from the West Country of England, was surveying the northern sky with a custom-built reflector telescope. As the Gemini constellation slid into view he noticed a new object moving slowly across the foreground. On a lesser telescope, the object would probably be dismissed as a new comet — one of the hundreds being discovered at the time.  But the precision of Herschel's five-inch, hand-polished reflector mirror was unmatched in England, if not the world, allowing him to note the absence of a comet's distinctive tail.
This was something different.
If you review Herschel's journal entries from this period you'll notice that he's no stranger to hard work. On most nights, during the good winter observation months, his notes begin around 7 pm and end near dawn. He repeated this laborious work, night after night, year after year, systematically mapping the northern sky. As Richard Holmes details in The Age of Wonder, his epic survey of the Romantic Era of science, Herschel enjoyed these labors. In a letter written to the Royal Astronomer, Nivel Maskelyne, for example, Herschel excuses his sometimes unrestrained excitement, saying it "may perhaps be ascribed to a certain Enthusiasm which an observer…can hardly divest himself of when he sees such Wonders before him."
The attraction of these "Wonders" is made clear by the events that followed that long March night. Though it required another nine nights of careful observation before Herschel made his first "tentative communications" regarding the new object, and several months to receive confirmation from other astronomers,  its importance had long before become obvious. Herschel had discovered Uranus — the first new planet since the age of Ptolemy; an event, as Holmes puts it, that would "[change] not only the solar system, but [revolutionize] the way men of science thought about its stability and creation."
The Romantic in the Classroom
Herschel was a man of the Romantic Era, a period spanning from the mid 18th century into the early decades of the 19th. The scientists of this era recast their work from an exercise in cold rationality to an aesthetic experience. They reveled in the difficult work of teasing truth out of a reclusive Nature, and experienced frequent moments of awe.
As a young scientist myself, this era is appealing for obvious reasons. More surprising, however, is its relevance to my role as writer of student advice. I claim that we can draw from the ethos of these Romantic Scholars a new approach to student life: one that can transform your education experience — high school through graduate school — from a trial to survive into the foundation of a life well-lived.
The Romantic Scholar Approach to Student Life

In a recent post, I outlined the dangers of seeing school as a trial to survive. When you adopt a mindset of suffering now for rewards later, I argued, you run the risk of wallowing in this suffering well beyond graduation, eventually losing sight of what originally motivated these sacrifices. The article, however, inspires an obvious follow-up question: What should we do instead?
My broad answer to this question is familiar to any long-time Study Hacks reader: adopt the Zen Valedictorian philosophy, which claims it's possible to be impressive and earn interesting opportunities while still living an enjoyable life. The big picture ideas behind the Zen Valedictorian include doing much less, but doing these things much better. There are, however, many different lifestyles that satisfy this philosophy.
In this post, I want to introduce a new series that will outline a specific set of strategies for making the promise of the Zen Valedictorian a reality. I call these strategies the Romantic Scholar approach to student life. This approach is inspired by the Romantic Era scientists and their ability to experience the hard work of systematic science as a rewarding aesthetic experience. My goal is to transform your student life into one where you find deep satisfaction in your course work and experience frequent moments of wonder. I don't want school to be a grinding process of pre-professional dues paying. It should instead be the core of live a well-lived right now.
Though I haven't finalized all the details, I wanted to summarize the two big ideas behind this approach and the style of strategies they might inspire:
Finding Enjoyment in Difficult Work
The ability to revel in the sometimes laborious craft of science was a hallmark of the Romantic scientist. A goal of this series is to transform the hard work of a problem set or knotty reading assignment into an fulfilling experience. This is not an easy shift, and it will require several significant lifestyle changes before it can become natural. Among other changes, you'll have to commit to doing much less, starting work much earlier, and finding more adventurous locations — strategies designed to transform your motivation from extrinsic to intrinsic.
Finding Awe in Learning
The Romantic Era scientists were driven by what Herschel called "the Wonders" they saw before them. Our current culture of seeing school as a trial to survive, by contrast, has stripped learning of its ability to produce these same moments of awe. The second goal of this series is to reclaim this experience. Among other strategies, we'll explore the idea of interleaving your assignments with similar work that is fully self-initiated, and the value of forming Philosophic Libation Societies: a revival of the age-old scholarly ritual of debating ideas over a stiff drink in a dark room.
My plan is to interleave these posts with the Rethinking Passion series I launched earlier this month. Whereas the Romantic Scholar series is aimed at student's looking to take control of their academic lives, the Rethinking Passion series is aimed at graduates looking to take control of their occupational destiny. Of course, this split is somewhat artificial, and I hope readers of either series will find worth in the other, as both deal with the same underlying drive: what's the reality of building a life worth living?
(Photo by Marquette University)