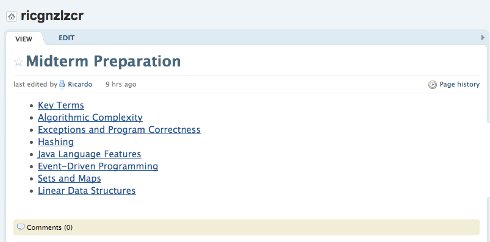 From 30 Minutes of Studying to a 4.0
I recently received an e-mail from Ricardo, a sophomore majoring in computer science at the University of Maryland.  For the past three semesters he has maintained a 4.0 GPA — a feat he accomplished "without stressing at all." At the core of his success is an unconventional technique that makes use of a wiki, his iPhone, and my infamous stealth studying philosophy. This technique is so effective that he dedicates only 30 minutes to review on the day before his computer science exams — yet still aces them.
In this post, I detail Ricardo's method, including step by step instructions and screenshots…
Stealth Studying 2.0
Back in the early days of Study Hacks, I published a popular article titled The Art of Stealth Studying: How to Earn a 4.0 With Only 1.0 Hours of Work.  At its core was a simple idea:
If you can…slice and dice [test preparation] into a large number of small, 5-10 minute chunks, integrated naturally into your daily routine…it will feel to you as if you are doing no studying at all.
In researching the red book, I met a pair of straight-A students who used this approach to eliminate "studying" (i.e., large amounts of review in the days leading up to an exam) from their schedule altogether. The stealth studying article was my attempt to bring this wildly unconventional take on academic work to the attention of a wider audience.
I recommended that students immediately process their lecture notes into small, question-based study guides, and then study from these while walking between classes. These quick bursts, I argued, when spread out over an entire semester, can eliminate the need for long study sessions.
Ricardo took this basic idea, and then added a high-tech twist.
In more detail, he did the following:
He created a free wiki using PBworks.
For each course, he created a page on the wiki for the next exam.
After each lecture, he put aside time to add the relevant notes to his wiki.  To do so, he would create a subpage for each topic, and then list the main points, add snippets of sample code, or summarize any other information relevant for the exam.
Following the stealth studying philosophy, he would then access his wiki using his iPhone while walking to class and waiting for the lecture to begin, doing quick bursts of review. (PBworks plays nicely with iPhones, making it easy to browse the wiki on the run.)
These quick bursts of review, conducted throughout the term, prevented the need for long stretches of studying. Ricardo admits that on the day before an exam, he might take "30 minutes to look over my wiki, do a few sample problems that the professor posted, and then get a good night's rest."
His 4.0 over three semesters testifies to the surprising reality that this approach can really work.

In More Detail…
Let's fill in some more details of what this strategy looks like in practice. I asked Ricardo to send me some screenshots of his system as used to study for CS 131, a class in object-oriented programming.
Below is the page he setup for the first midterm in the course (click here for a larger version):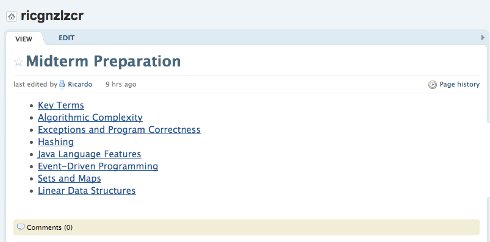 There's nothing flashy going on here. He links to a subpage for each topic that might be covered on the midterm. On average, his professor covers one topic per class, so Ricardo was adding pages at the rate of one or two per week.
Below is one of these topic subpages (click here for a larger version):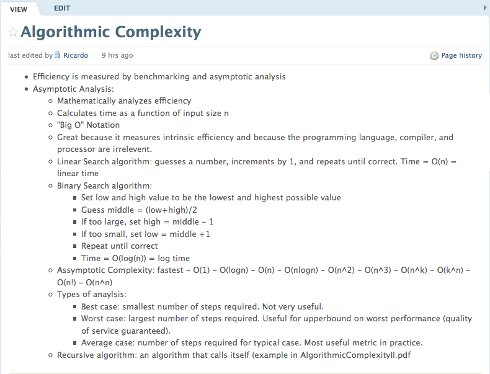 Notice that Ricardo uses basic formatting to keep the pages readable when accessed on his iPhone.
To study from the subpage above, he would convert each line into a question on the fly. For example, seeing the term "Binary Search Algorithm" on his screen, he would turn away from the screen and try to recreate the bullet points that follow from memory.
And that's it.
This procedure assumes, of course, that you've already mastered the fundamentals of being an efficient student. For example, that you're trying to really understand the information as its presented in class — raising your hand to ask questions when confused. (If you daydream through lecture, you won't be able to create an effective study guide.) And that you have enough control over your schedule to ensure that these pages get made right away. (For students who deploy an autopilot schedule — or something similar — this should pose no problem.)
Beyond Computer Science

What strikes me about Ricardo's approach to computer science was his willingness to start from scratch. The details of his system might not work for you, but the big idea of reducing a problem to its basics, and then coming up with an original strategy, is applicable to many situations.
Next time you face an energy-sapping academic, extracurricular, or even professional challenge, take a step back to ask two simple questions:
What do I really need to accomplish here to succeed? Ignoring the conventional approaches, what would be the least painful, most effective possible way to get this done?