Update: As of 8:30 EST we've raised over $2500! You guys are amazing.
"What I've seen here in Haiti, I've never seen before."
This is from the Twitter feed of Sanjay Gupta, CNN's chief medial correspondent, who is reporting from Port-au-Prince, Haiti. He's seen a lot of tough situations in his career, so this statement means something.
This morning I donated $137, the amount of my most recent advertising check for Study Hacks,  to Partners in Health, a Boston-based aid organization that has a strong presence in Haiti.
Here's a screenshot of the confirmation e-mail: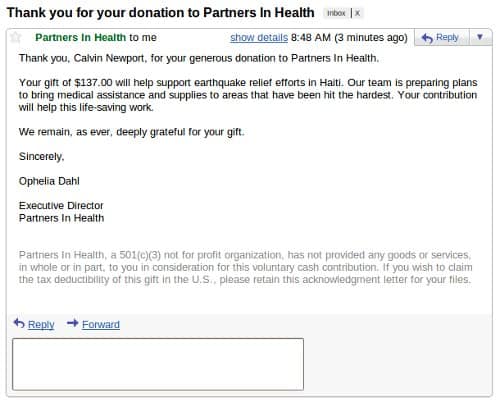 I'm asking you to also donate to this organization.
They have great infrastructure in place in Haiti, including over 120 doctors and 500 nurses, longterm relationships with the Haitian people, and an obsession with results. A donation to Partners in Health will have an immediate impact on real people who are really suffering right now.
If you do donate, consider forwarding me a copy of your confirmation e-mail. There are two reasons for this request. First, keeping a running total will help me convince more Study Hacks readers to follow your example. Second, I'm giving away two signed copies of the rare yellow-covered version of my red book. One copy will go to the reader who donates the most money, and the other will go to a reader chosen at random.
And I'll leave it at that.
(Photo by Damon Winter/The New York Times)