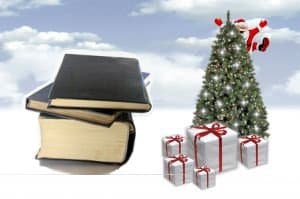 A Christmas Tradition…
It's a tradition as deeply ingrained as overdosing on eggnog or decorating the tree: college students home for the holidays getting into fights with their parents about school. There are uncountably many different ways for these fights to be kindled, but once raging they fall into one of two predictable paths: the always popular "you don't understand how hard I study" theme and the well-worn classic "I know everything and you're hopelessly naive."
This post, in the spirit of the season, teaches you how to avoid such brawls. Below are three simple pieces of advice. Give them a read now and the vacation days ahead might just remain merry.
Tip #1: Talk Strategy, Not Effort
Here's a common path to a student/parent fight: The student mentions a grade he's not thrilled about. The parent suggests that the student works harder. The student launches into a speech about how many hours he spends studying, and how everyone in the class did poorly — even the ones who were really, really smart — and how there are simply not any more hours in the day left for him to study, etc., etc. The parents consider the difficulty of their jobs and child rearing and decide that they're not impressed. They suggest, once again, that the student work harder.  The fight escalates.
You can sidestep this hornets nest altogether by always moving the conversation back to strategy. When discussing a class with a parent, never refer to the amount of work you did, instead discuss your strategy. Talk about how you took notes and how you structured your review. Mention what changes you're going to make to your study strategies for the next semester. This is safe ground. The discussion is not about your character — are you working enough? — but about strategy. At best, your parents might offer some complements or a few tactical suggestions that you can likely ignore. The fight, however, will be avoided.
Tip #2: Don't Reference Your Classes in Heated Discussions
Another common fight-igniter begins with the standard high-energy family discussion. Maybe you're talking politics or making a judgment on a larger societal problem. After a while, some of your relatives start making strong, somewhat overgeneralized statements. Your college-honed instincts begin to scream: That's a generalization! It's more complicated than that! Soon you're fervently preaching a high-level — probably incomplete — version of whatever you learned in your freshman philosophy seminar, committing to it like it's the Rosetta Stone to all of human understanding. At some point, you're accused of being an obnoxious know-it-all. The fight escalates.
My advice here might be controversial: don't bring up what you learned in class. At least, not in the context of a heated discussion. (It's okay, in casual  one-on-one conversation to say "let me tell you about something I learned that was really interesting.") In a large family argument, however, referencing your latest class always — and I really mean always— makes things worse.  Instead, while in a heated conversation, focus more on understanding the core of peoples' views. Try to separate the kernel of truth (which is almost always present) from the veneer of over-generalization (which for non-academics is also almost aways present). These kernels often contain real learned-wisdom, and it's a good intellectual exercise to parse them out. Restate other peoples' views, rather than push in your own.  Everyone will remain happier.
Tip #3: Discuss your Strategy for Choosing a Major (or Classes), Not Your Actual Choice(s)
As I've said before, certain decisions are best left to yourself. Namely: your major and courses. There's no quicker path to a student burnout than feeling like you're killing yourself to please a parent's view of what's practical. And nothing ignites a fight faster than a dinner table discussion of what you're going to do after graduation with an Art History degree. (The answer, by the way, is that outside of the technical fields the idea that your major should match your work is outdated and incorrect.)
The solution here is simple: Don't discuss your choices. Instead, discuss your strategy for making these choices. What's your goal for your major? Is it engagement? Job options? Pushing your mind to new levels of insight? These big-picture issues are non-contentious. They also helps explain the why behind your eventual choices, putting you and your parents on the same page for the eventual decisions.