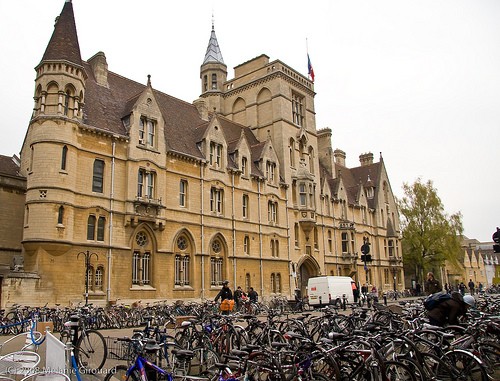 The Rhodes Effect
"The 2011 Rhodes Scholars were just announced, which made me depressed and wondering about how they accomplish all the things they do!"
This was the opening line from a recent e-mail. To illustrate what troubled this e-mailer, I've reproduced below the official bio from one of the 2011 Rhodes Scholars:
Nicholas A. DiBerardino, is a senior at Princeton where he majors in music (composition). A campus leader in student government and a junior member of Phi Beta Kappa, Nick is an accomplished composer with many awards for his compositions. He has been a composer in residence at the Brevard Music Center and the European American Musical Alliance in Paris. He founded the Undergraduate Composer Collective at Princeton. While in high school, Nick founded a program to collect, refurbish and distribute used instruments and to provide instruction to needy students in Bridgeport. He plans to do the M.Phil. in music at Oxford.
Like all Rhodes Scholars, Nicholas' bio is stunning. It's not just the quantity of the accomplishments, but also their quality: every accolade is impressive. It's no wonder that my e-mailer felt down on himself: when you encounter elite students like Nicholas, it really can seem like you're not doing nearly enough.
But here's what's interesting: when you spend time around Rhodes Scholars, as I did when researching the yellow book, you become skilled at understanding not just what they did, but also how they got it done, and this understanding leads to a surprising conclusion: the proper reaction to an elite student such as Nicholas is not "I should be doing more," but instead: "I should be doing less."

The Missing Information
To understand Rhodes Scholars, you must understand that their official bios, like those of most elite students, are missing two key pieces of information: time and interaction:
Time.
In a bio, all accomplishments are listed together, which gives the incorrect impression that the student juggled many parallel pursuits. The reality of big accomplishments, however, tends toward the serial, with little to no overlap between different endeavors. In Nicholas' case, for example, his work refurbishing instruments preceded his time at Princeton, where he focused almost exclusively on improving his musical ability. His involvement with the Brevard Music Center and European American Musical Alliance describes a pair of student musician summer programs he attended over two successive summers, preventing collision with his school year pursuits. The only place we find Nicholas working on two major activities at once is the collision between his composing and his role as a class senator in the student government.
Interaction.
In a bio, it's easy to imagine each big accomplishment in isolation, marveling at the quantity of work it required. The reality of these accomplishments, however, features a large amount of interaction. Elite students leverage hard won ability to gain as many related successes as possible. In Nicholas' case,  his extracurricular accolades almost all reduce to his intense focus on music. Winning a spot in the prestigious Brevard Music Center's summer program (which accepts around 200 students each year), for example, was the result of the time he invested in his music composition, not an unrelated achievement.
The Oxford Minimalist
When you add time and interaction back to the bio of Nicholas DiBerardino you encounter a portrait of a minimalist.  He was a class senator (for some, but not all of his years at Princeton) but otherwise invested his extracurricular energies into his music: a commitment to doing less that eventually led to a Rhodes.
Here's what strikes me: His scheduled is significantly more streamlined than the vast majority of ambitious students who write me each week for advice — yet he ended up significantly more impressive.
This pattern is common among elite students: they do very little, but do what they do very well; an observation that motivates the advice I gave to the e-mailer whose cry of inferiority opened this piece:
"To paraphrase Shaw, you don't want to reach graduation and find yourself saying; 'I'm sorry I'm not more impressive, but I didn't leave myself enough time to actually get good at something that matters.'"
(Photo by diluvienne)