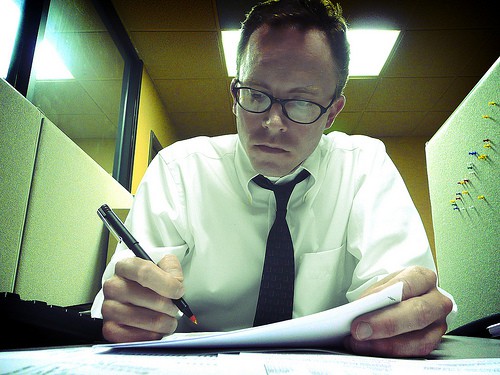 The (Lack of) Passion of the Tax Consultant
In the summer of 2008, I met John, a rising senior at an Ivy League college. He was worried about his impending graduation.
"What advice can you give to a student who wants to live more spontaneously?", he asked. He didn't know what he was looking for, but was clear about his "dreams to do something big."
I gave John some advice, mainly centered around lifestyle-centric career planning, and then we went our separate ways.
That is, until two weeks ago, when John sent me a note.
"Well, I ignored your advice at my peril," he began. John had taken a job as a corporate tax consultant. Though he found the work to be "sometimes interesting," the hours were long and the tasks were fiercely prescribed, making it difficult to stand out.
"Aside from not liking the lifestyle", John complained, "I'm concerned that my work doesn't serve a larger purpose and, in fact, hurts the most vulernable."
Longtime Study Hacks readers are familiar with my unconventional stance on finding work you love. I don't believe in "following your passion." In most cases, I argue, passion for what you do follows mastery — not from matching a job to a pre-existing calling.
John's story, however, strains this philosophy. It poses a question that I've been asked many times before: can I generate a passion for any job?
In other words, is there a way for John to grow to love being a corporate tax consultant?
Here was my answer: probably not.
The Passion Disqualifiers
When I first started developing my career philosophy, my friend Ben Casnocha pushed back by asking whether my advice to a baggage handler at the airport would be to "become the best damn baggage handler at that airport."
For a while now, I've been waving my hands in the direction of critiques such as these, noting vaguely that not all jobs are made equal. But John's e-mail forced me to think more concretely about these issues. I ended up devising the following list of three traits that disqualify a job from something you can feel passionate about:
The job presents few opportunities to distinguish yourself by developing relevant skills that are rare and valuable.
The job focuses on something you think is useless or perhaps even actively bad for the world.
The job forces you to work with assholes. (A term I use in only the most official, academic sense.)
Trait 1 prevents you from building the career capital needed to take control of your working life, while traits 2 and 3 prevent you from enjoying the work even if you could control it.
John's job matches disqualifiers 1 and 2: so he needs to get out of there.
I don't know that this list is complete. In fact, I would welcome your feedback in the comments about what I'm missing. What's important here, however, is that these disqualifying traits, though perhaps distressingly common, have nothing to do with whether a job matches some pre-existing passion. In other words, my general career philosophy still holds: working right trumps finding the right work.
#####
This post is the fifth in my series on Rethinking Passion, which tackles questions concerning the reality of building a deeply satisfying work life. Expect a new post in the series roughly once or twice a month. Here are the previous articles:

(Image by madmolecule.)