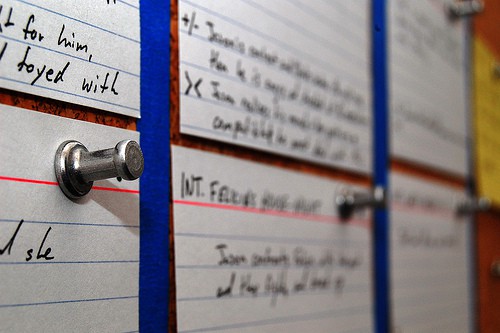 The Shane Black Effect 
The story is a Hollywood classic. At the age of 23, two years after graduating from UCLA with a theater degree, and eager for a source of income while waiting for his acting break, Shane Black decided to try screenwriting. He penned a buddy cop flick, featuring a deranged lead seeking redemption. He gave it the type of clipped, masculine title popular in the mid-80s blockbuster era: Lethal Weapon. The script was scooped up mega-producer Joel Silver for a quarter million dollars, catapulting Black into screenwriting stardom. Within a decade, after earning a then record $4 million for The Long Kiss Goodbye, he became the highest paid writer in the industry,
Black's story, and those like it, drive thousands of hopeful writers to Los Angeles each year, and motivate untold tens of thousands more to bookstores to seek instruction from a bewildering array of expert advice guides. These writer wannabes take this leap with full knowledge that screenwriting is one of the world's most notoriously elite and inaccessible industries. The Writers Guild of America counts 12,000 professional screenwriters on its rolls — that is, writers good enough to have been paid for their work — and of these pros, it's estimated that around half are out of work at any given time. To make matters worse for the amateur, a growing number of selective screenwriting M.F.A. programs ensures a constant flow of highly-trained newcomers to compete for the few open slots that remain. In 2009, the Nicholl Fellowship, the most prestigious amateur screenwriting award, received close to 7000 submissions.
If you want to make it in screenwriting you have to be exceptional, and this is what makes it a fascinating case study for our ongoing efforts to decode the secrets of becoming so good they can't ignore you.
The Anonymous Screenwriter
In the winter of 2008, I pitched an article to Flak Magazine. Having recently spent time profiling a rap artist's songwriting process, I thought it interesting to try something similar with a similarly fascinating field: screenwriting. I tracked down a successful television writer and convinced him to undergo several long interviews detailing his experience.
This writer, whom I'll call Thomas, arrived in Hollywood with an Ivy League degree and a drive to avoid the professions one is supposed to pursue with such credentials. A half-decade later, he is the head writer on a television series that was recently picked up for its second season.
In other words, among the closed community of Hollywood screenwriters: Thomas has arrived.
What interests me about Thomas' story is its deviation from standard advice. Consider, for example, this article from the popular Absolute Write web site, that asked readers share their wisdom for aspiring screenwriters. There were two type of responses.
The first type of response: Persevere.
"Rome wasn't built in a day," says Bruce Andrews.
"Be not afraid," adds James Rae. "Send that screenplay all over the place…the more people that reader it, the better chance someone likes it."
The second type of response: Use the right techniques.
"Keep it short," says Miriam Bradford.
"The most important aspect of any screenplay is its structure," quips  Sandy Payne.
"

Tell the story through pictures and action whenever possible," notes Paul McLaughlin. 
In other words, succeeding in screenwriting requires that you learn some screenplay basics, and then work hard. Sounds good. The problem, however, is that thousands of hopefuls do exactly this every year — and consistently come up short.
Something more must be at play.
The Rise of Thomas
Thomas didn't sit in isolation with a Syd Field book and a blank computer screen, refusing to give up until he penned the next Lethal Weapon. For lack of a better word, his path was much more ragged.
He got his foot in the door editing an online humor magazine while working on a quixotic pilot for a cable network toying with the idea of original programming. After a while he shifted to a job as an assistant to a development executive. This led to a job as a writers assistant on a television drama and then a stint as the right-hand man to a writer with a studio deal on the Fox lot. Somewhere in this mix, at the urging of a producer he met, he worked on an independent film screenplay based loosely on his childhood, and eventually landed a spot on the writing staff for the new drama helmed by the Fox-backed writer he had assisted. The show was promptly canceled.  Throughout all of this activity, he had a spec script, written for a popular television comedy, that he had been continuously polishing — integrating the lessons from his other experiences as he learned them.
It was this spec script that, two years ago, landed him an interview with an influential producer working on an interesting TV pilot.  Thomas was asked to pen the pilot episode, which was later picked up as a full-time series — making Thomas a head writer.  It pulled good enough ratings to recently earn a second season.
Whew.
The standard screenwriting advice, summarized earlier, is to learn the right techniques — perhaps by reading a book or attending a conference — then put your head down and keep writing until you hit upon that magic, Black-esque hook that lights up the industry.
Thomas' life, by contrast, points to a much messier suggestion: immerse yourself in the world of screenwriting, getting as close as possible to scripts people like, and the people who like them. Furthermore, continually extract lessons from your exposure to apply to your own writing.
People don't like this advice because it discounts their dream of writing the next Lethal Weapon during their lunch break. It requires, instead, a complete change of lifestyle and a risky dedication to mastering a tricky craft.
In short, screenwriting requires an apprenticeship, and this is why most working writers have stories that start, like Thomas, with an entry-level industry job — not the writing shelf at Barnes & Noble.
Beyond Screenwriting
I had lunch earlier today with some executives from Ford. (I'm penning these words from the Detroit airport, after giving a talk at Ford's Center for Innovation and Research.) Listening to their insider take on the automotive industry, a curious fact caught my attention: It can take 15 years to master the skills necessary to work the equipment in the tool and die industry.
15 years.
I think this little piece of trivia provides an elegant way of thinking about becoming excellent in competitive industries, such as screenwriting: It's not just hard work combined with some easily learned tips — "show, don't tell!;" "use a three act structure!" — it's a craft. And learning crafts takes not only time, but exposure to master craftsman.
The more I encounter examples of people building remarkable lives by becoming excellent, the more I discover that this model of craftsmanship is alive and well in our modern age. This offers interesting food for thought. When contemplating your own field, ask yourself: are you the wannabe screenwriter reading how-to guides on the subway, or are you, like Thomas, throwing yourself among the masters, and proclaiming: I know nothing, but you do, and I'm not going anywhere until I do too?
(Photo by BLundin)