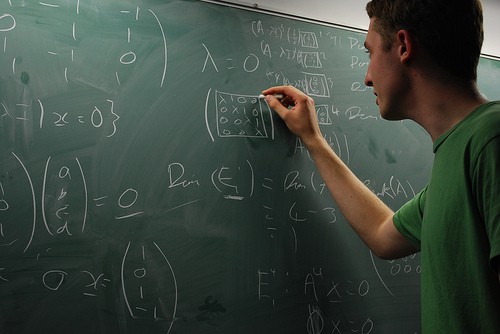 The Wisdom of  (Math Nerd) Crowds
A couple weeks ago, I complained that my academic paper reading speed was slower than I would like given its importance to my productivity. I asked for your advice and you responded with over 60 comments and numerous private e-mails.
My goal in this post is to synthesize the best ideas from this feedback, as well as the results of my own self-reflection, into a clear answer. In particular, I've identified three big ideas relevant to trying to read technical papers — and in particular those containing mathematical proofs — as efficiently as possible.
Idea #1: There are no magic bullets…
This conversation helped cement an idea that I've long suspected to be true (but sometimes resist):
To develop a detailed understanding of a published mathematical proof is an ambiguous process that requires multiple attacks and can take an unpredictable amount of time (not unlike proving something in the first place).
As a result, you must be selective about what proofs you decide to dig into, as the time commitment is potentially serious. In the study of algorithms (my field), for example, in most cases when reading a relevant paper it's sufficient to dive down just deep enough to answer the following questions:
What is the main result and how does it compare to what was known before (or what a naive approach would provide)?
What is the high-level insight/trick deployed in the bound argument that enabled this improvement?
With experience, I've found that I can consistently produce this level of understanding within an hour (sometimes less if the paper is well-written or building on my own results).
This knowledge is not enough by itself to deploy or extend the technique presented in the paper, but it is enough to recognize future opportunities where this technique might be relevant to a problem you care about (at which point, you'll have to dive deeper). In other words, maybe just one out of ten papers you read will end up proving directly useful to your own work, so it makes sense to learn just enough from the papers you read to identify whether or not they're in that crucial 10%.
Idea #2: There are ways to be more efficient…
If you must understand the details of a proof, then in addition to the high-level suggestion from above of preparing yourself psychologically for a difficult battle, the following low-level strategies might also help:
Instead of trying to read through the proof linearly, build a hierarchy of dependencies among the lemmata and theorems. Summarize each lemma and theorem in your own words and summarize each dependency relation; e.g., how does this theorem use the following three lemmata? Once you have this map, it becomes clearer where to begin a deeper dive and provides context for what you're reading.
(Last time I deployed this full proof-mapping process — which can be quite arduous — I ended up uncovering a flaw in a reasonably well-cited paper.)
In general, you should never start reverse-engineering a mathematical derivation until you understand what it is trying to show, why you expect it to be true, and how it will be used. If possible to assign some of this reverse engineering to a grad student, do so: it's helpful to both parties.
Create your own system of notation and rewrite the relevant statements and re-derive the main results (or, rough approximations of the main results) using this notation. You'll likely have to revise this notation system many times before you're done, but this process will make it much easier for you to conceptualize the deeper insights of the argument.
(I had to do this last week for a proof that I needed to understand better. It took me something north of six hours to complete! But I do certainly understand better now what is going on underneath the covers of this particular line of thinking.)
Form reading groups with like-minded academics. Something about collaboration has a tendency to bust open mental road blocks and incite more creative thinking.
Idea #3: But perhaps the best strategy of all…
Get the authors on the phone or pull them aside at a conference and have them walk you through the argument. Nothing is more efficient than having the original author fill in the details of his or her thoughts.
(This latter strategy, of course, becomes more available as your status in your field grows. It might not be advisable, for example, for a first year PhD student to apply it with too much regularity!)