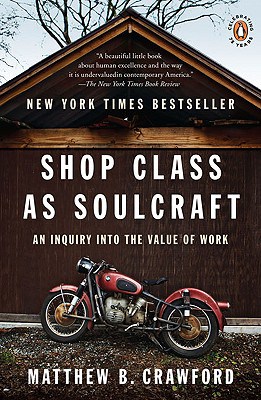 Deep Work as Soulcraft
I recently reread Matthew Crawford's 2009 book, Shop Class as Soulcraft. Though Crawford's primary goal is to make a philosophical case for the skilled trades (think: Mike Rowe with footnotes), a lot of what he writes resonates with my thinking about deep work.
Consider the following quote, which caught my attention:
"The satisfactions of manifesting oneself concretely in the world through manual competence have been known to make a man quiet and easy. They seem to relieve him of the felt need to offer chattering interpretations of himself to vindicate his worth. He can simply point: the building stands, the car now runs, the lights are on. Boasting is what a boy does, because he has no real effect in the world." (page 15 of hardcover edition)
Cannot the same thing be said about any deep effort that results in the production of something too good to be ignored?
The reason, I think, that deep effort holds an appeal is that so much in modern knowledge work reduces to Crawford's chattering interpretations — responding quickly to e-mail threads, bullet point self-promotion in PowerPoint slides, relentless online branding and ceaseless networking.
At some point, we tire of the shallow – necessary as it might be – and foster a desire to retreat into depth, create the best possible thing we're capable of creating, then step back, point, and remark simply: "I did that."