A Sinful Omission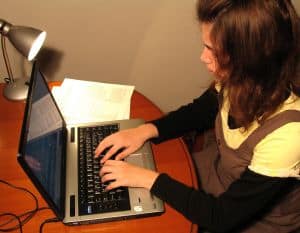 The red book splits academic subjects into two groups: technical and non-technical. The former covers any course with problems to be solved. The latter describes subjects that have you express your knowledge with essay questions and papers.
This taxonomy, however, has a gaping hole: non-technical science courses. These include biology, psychology, or any other subject that requires you to learn lots of technical information, but tests you predominantly with multiple-choice and short-answer questions.
I thought it was time to put together a short, canonical guide to tackling this type of material…
Process, Polish, Perform
My philosophy for these courses is simple: reviewing for an exam should consist only of reviewing. There should be no time wasted learning material for the first time a few days before an exam, or slaving over reformatting notes into something studyable. If you can inline these tasks throughout the semester, the process of studying will be greatly simplified.
To achieve this goal, remember the three P's…
Process
Attend every class. Take notes. I don't care if the professor uses Power Point slides distributed in advance. Notes are not about capturing information. They are, instead, an activity that forces you to process and learn the information as it's presented.
For non-technical science courses, I recommend using the focused question cluster format for your notes. This strategy has you pull out the important ideas and capture them in clusters of short, related questions.
Warning: Do not take old-fashioned transcription notes in class and then later transform them into focused question clusters. That wastes time. Eventually you will resent its difficulty and stop doing it. Wrangle the information into focused question clusters as the professor spews it.
Polish
Inevitably, some concepts will escape your understanding when first presented. Most students let these question marks slide until exam time, and then attempt, in a frenzied rush, to learn all of this missing material from scratch.
This approach guarantees that your studying experience will suck. It also increases the chance that you'll bomb an exam due to a question you have no idea how to answer.
I want you to instead observe the 48-hour rule. When the professor describes something you don't understand, immediately jot down a note and label it with a big question mark. (If you're taking notes on a computer, use a long string of question marks; i.e., "????????????????????".)
You then have 48 hours to replace that question mark with a focused question cluster.
As I explained in the red book, in my chapter on academic disaster insurance, there are a variety of strategies — listed below in order of their proximity to the initial confusion — that can help you fill in your missing understanding.
Raise your hand and ask for clarification right there in class.
If that doesn't work, talk to the professor immediately following class.
If that doesn't work, review your textbook and ask friends in the same class. (Do this the same day!)
If that fails, talk to the TA or professor at their next office hours. Don't leave until your understanding is complete.
Inlining this learning into the semester, instead of waiting until the weekend before the test, will save you hours of aggravation.
Perform
If you followed the first two P's, all the course material will have been processed and polished into a studyable format before you start to review. When it comes time to study, all of your effort can focus on refreshing material you already know.
My article on focused question clusters explains the details of this refreshing stage. The main idea, however, is that you must be active (not passive): answer questions, out loud, without looking at your notes, as if lecturing a class. If you can't produce and explain the information from scratch, you don't know it.
We are left now with one final question: How early should you start studying?
My recommendation is to construct a date/action list two weeks in advance. You won't be studying intensely for two weeks. But this advance planning will allow you to slip the review in open pockets of time and therefore avoid late nights.
And that's all you need to know to tame non-technical science subjects.