The Grade Whisperer is an occasional feature in which I use the Study Hacks philosophy of do less, do better, and know why, to help students overcome their academic problems.
The 25 Year-Old Freshman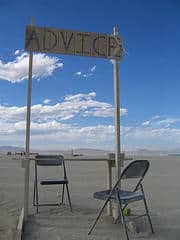 When Jay graduated high school in 2002, he bypassed college to compete with a professional drum and bugle corps, eventually becoming head of percussion and winning a regional championship.
Over time, Jay sagely realized that "this was not heading toward a long-term career." So in the fall of 2008, he enrolled in college as a 25 year-old freshman.
Like many new students, he allowed his study habits to coalesce randomly into a half-assed jumble of procrastination and stress.
"My strategy was to earn a 4.0 through losing lots of sleep cramming for exams and saving papers until the last minute," Jay recalls.
He was earning good grades this first year, but as he reports: "it was killing me both physically and mentally." Around this time, his daughter was born, straining an already tight schedule.
"It was a disaster waiting to happen."
His words proved prophetic. This fall, during his first semester as a sophomore, Jay "hit the wall" with a pair of tough upper-level classes.
"Not knowing how to study or manage my time put me behind," Jay says. He bombed his first exams, earning a D on one of them.
"I realized that I needed to re-learn how to study," Jay says. This led him to Barnes & Noble, where he stumbled across an intriguing, yellow-colored book. This, in turn, led him to Study Hacks.
Things began to change…
The Transformation
"Following the advice on your blog," Jay recalls, "I performed a post-exam post-mortem on my two bombed midterms and realized that my 'studying' had consisted of rewriting the textbooks."
"There was no understanding of the information."
Inspired by the concept of an autopilot schedule and the philosophy of fixed-schedule productivity, Jay adopted the following structure for his week: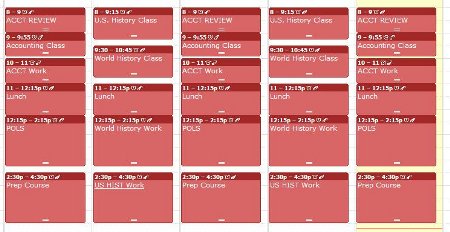 "It allowed me to study at maximum efficiency and still spend time with my family in the evenings."
There are two things worth noticing about this schedule. First, it ends at 4:30 every afternoon. And second, it contains blocks labeled "prep course." This is time Jay set aside as a shadow course: during these blocks he updates study guides and begins ridiculously early preparation for his real courses — preventing the need to add lots of extra study time right before exams.
And that's not all.
Intent on mining the Study Hacks Canon for all it's worth, Jay adopted the quiz-and-recall method for review and deploys the stealth studying strategy during walks between buildings. In class, he takes notes with a mixture of Q/E/C and focused question clusters, depending on the material. He also uses one of my all-time favorite strategies, the Sunday ritual — a block of time on Sunday dedicated to "hammering out a plan of action for the week ahead."
The Results
"I have upped my grades in my two disaster classes to the middle B-level," Jay reports. "And I'm striving for an A with two more exams left in the semester."
Even more important: "My daughter gets to see her father in the evening free of hassle, and my girlfriend can enjoy our company without the distractions of open textbooks and half-written papers."
Conclusion
The maturity that comes with Jay's age, and the responsibilities of a family,  certainly stoked his motivation to make systemic changes to his student lifestyle. But the general lesson is applicable to any student: big turnarounds require big effort.
###
Spread the Word Contest Update: Congratulations to Nazim, who won my reader contest that asked students to help spread the word about the Study Hacks philosophy. Nazim personally recommend my books to dozens of students. He also donated his own copies to his school library, eventually getting them put on prominent display near the entrance. For his efforts he'll receive a signed copy of a rare yellow-jacketed, galley version of the red book.