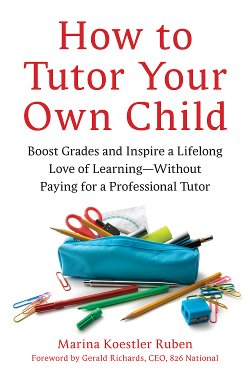 Last night I went to a book launch party. It was held at 826 DC, a fantastic youth tutoring non-profit  that oozes with hipster whimsy.
Appropriately, the author we were celebrating, Marina Koestler Ruben, is an educator. Her book is titled: How to Tutor Your Own Child.
I read an advance copy, and it's good; the type of book that will continue to sell for years and years because it offers solutions to a universal problem:  how to be useful when your child struggles with school work. Also, unlike many advice guides, it's actually well written, which likely owes much to Marina's writing degree.
There was, however, a bigger point that struck me as I listened last night to Marina talk about adopting the parent-tutor lifestyle: achieving this goal is not obvious.
Do you know, for example, the six steps that define a quality tutoring session, or when to make the shift from parental to professional help? I didn't.
Tutoring, it turns out, is a craft.
This brings me back to an argument that I made obliquely in my recent post on the case method for defeating procrastination: the more ambitious among us like to take action toward our goals, but we don't necessarily want to put much time into figuring out which actions we should be taking.
When our children struggle with their homework, we're quick to dive in and offer advice, but how many look to the Marina's of the world to first figure out how to do so effectively?
In other words, if you're on homework patrol in your household, buy this book. If you're not, buy into the broader lesson it exemplifies: taking action and taking the right action can be two very different things.