An Adventurous Academic Alcove
Alex's trouble started with a mathematics course. Something about the material just didn't click.
"I grew to to dislike the course so much that I could stare at the problem set for hours and get nowhere," she told me.
Then she came up with a solution: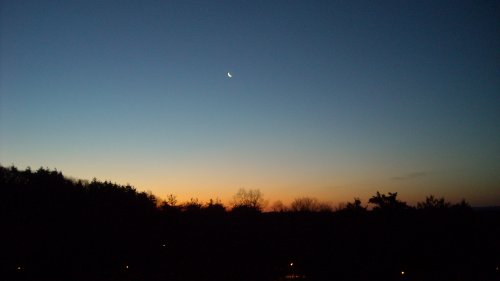 The image above was taken from the roof of the science center at Alex's university. This is where she started to take her math homework — usually late at night.
She was definitely not supposed to be up there, but she went anyway — and for good reason.
"I would slip out onto the roof, and go to a little protected alcove I discovered. There was a roof light that lit the area and I had a nice place to sit" she said.
"The total isolation and silence, the total lack of distractions, the novelty of the location, the limited time: it made these sessions really excellently productive."
The Return of the Romantic Scholar
Alex's tactic is an example of what I call adventure studying. I introduced this idea back in 2008, but I'm reintroducing it today as part of my ongoing  series on the Romantic Scholar approach to student life. As you might recall, this series presents tactics for transforming your student experience from a trial to survive and into the foundation of a life well-lived.
Adventure studying, as Alex discovered, is a fantastic strategy for advancing this goal. The antiseptic library and distressed dorm lounge are so burdened with cultural significance — studying is hard, boring, tedious work — they make it near impossible to reimagine your academic experience.
Change the context, however, and you gain freedom from these signifiers. Study by a waterfall or at a quiet pub, and you take back control decisions about what role your school work plays in your life.
Keep this strategy in mind as the new semester lurks closer. Tackling your assignments can be a sublime experience, but it's up to you to make this happen.
Just don't let the janitor see you sneaking up the fire escape.
#####
This post is the fifth in my series on the Romantic Scholar approach to student life, which details a collection of strategies to transform school from a trial to survive into the foundation of a life well-lived.

Past articles: