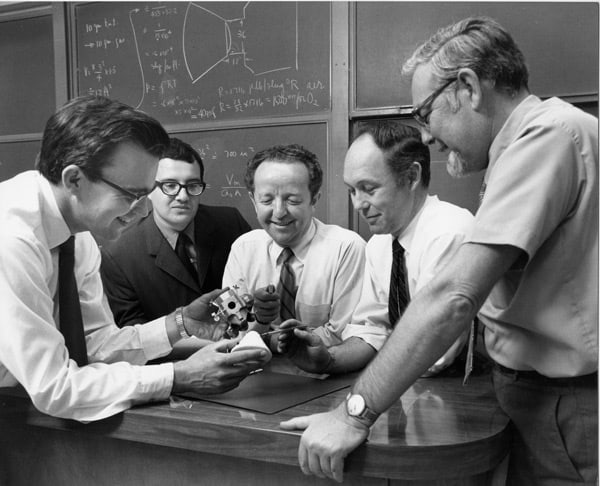 The NASA Paradox
In 2008, Dan Markovitz was meeting with a group of R&D engineers at a high tech company. The engineers began complaining about e-mail.
They were overwhelmed by the hundreds of messages arriving every day in their inbox, but at the same time, they agreed that this was unavoidable. Without such intensive e-mail use, they reasoned, their teams' efficiency would plummet.
This conclusion led one of the engineers to ask an interesting question:
If this is true, "how [did] NASA's engineers manag[e] to put a man on the moon without tools like email?"
Think about this question for a moment. The Apollo program was massive in size and complexity. It was executed at an incredible pace (only eight years spanned Kennedy's pledge to Armstrong's steps) and it yielded innovations at a staggering rate.
And it was all done without e-mail.
How did the Apollo engineering teams manage something so complicated and large without rapid communication? Fortunately for this particular group, an answer was available. It turned out that a senior engineer at this high tech company had also worked on the Apollo program, and someone asked him this very question.
Here's how the Apollo engineer remembered working:
His team met from 9  – 10 am, three days per week.
They spent the rest of their time "actually working on solving this enormous puzzle of landing on the moon."
If someone got stuck and needed someone else's input, "they actually talked to each other."
To quote Intel engineer Nathan Zeldes (as Markovitz does in summarizing this approach):
"These guys were plan-driven, not interrupt-driven."
I find this anecdote fascinating. I'm not implying, of course, that organizations should abandon e-mail altogether and fall back on Apollo-era carbon copies and secretary pools.
But hearing this story induces a key insight: the way we currently use e-mail technology  — in which our day is interrupt-driven and quick responses are expected — is not a necessary condition to successfully manage teams and organizations tackling hard problems.
If you'll excuse some uninformed speculation, my guess is that if we could go back in time and outfit the Apollo engineers with e-mail terminals,* two things would have happened. First, their work lives would have become more convenient. Second, it would have taken them longer to get a man on the moon.
Or maybe not.
But at the very least, we should use this story to remind ourselves that the statement, "I have to be constantly connected to effectively manage my team/company/project," is not a tautology; it's a hypothesis — one we can and should continue to rigorously investigate.
#####
* Let's be honest, if we went back in time to give these engineers e-mail terminals, the first thing they would do is pry open the cases and hijack the processors to replace the creaky technologies they were stuck using (the Apollo guidance computer ran at a stately 1 Mhz and had all of 2k of memory to work with).