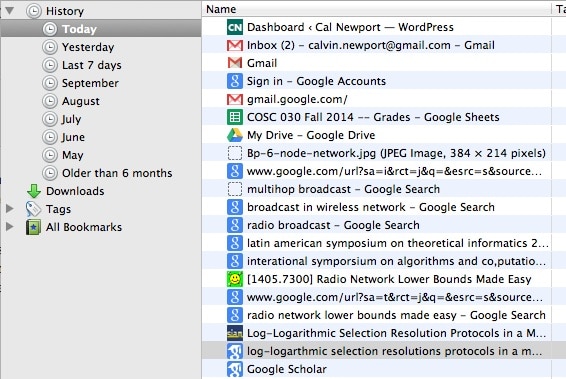 Swimming to the Offline Shore
By 2004, I was an expert web surfer. I had memorized a sequence of web site addresses that I could cycle through, one after another, in rapid succession. I would do this once every hour or so as a quick mental pick me up to help get through the work day.
At some point, soon after starting graduate school at MIT, I dropped the habit altogether. It's been close to a decade since I considered the web as a source of entertainment during my work day.
Indeed, I'm so out of practice with web surfing, that I've found on the few occasions that I've recently tried to relieve some boredom online, I wasn't really sure where to go or what to do. (Most of the articles I end up reading online are sent to me directly by readers, not encountered in serendipitous surfing.)
To illustrate this point, the image at the top of this post is a screenshot of my complete browser history for today, taken at 2 PM. (Note: I doctored the list slightly to remove redundant entries for a given visit to a given site.)
A Replicable Feat
Imagine what would happen to your efficiency and depth if you dropped all non-work related web use during your work day.
No clickbait. No Facebook. No blogs (except, of course, Study Hacks, which is immensely relevant to everyones' professional success!) From my experience, the impact of such work day prohibitions is massively positive.
When you eliminate the chance of web surfing, you tend to be more efficient in processing your work. (The way I see it is that I'd rather finish my day an hour early than sprinkle an hour of time wasting throughout.)
Of equal importance, the simplicity of the rule — no web surfing, no exceptions — makes it easy to avoid this temptation when trying to work deeply, thus preventing unnecessary ego depletion.
Some might worry about the need to be in the loop. At least for me, however, this has never been an issue. As the computer scientist Don Knuth put it: "[Frequent connectivity] is a wonderful thing for people whose role in life is to be on top of things. But not for me; my role is to be on the bottom of things."
To conclude, we've become so enmeshed in the attention economy that it can seem impossible to fathom leaving it for a large part of your day. But this is why I'm telling you my story.
It is hard at first.
But after a while, you don't miss it.