A Focused Digression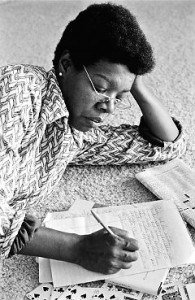 David Brooks's most recent column ends up on the subject of geopolitics, but it begins, in a tenuous but entertaining fashion, with a long digression on the routines of famous creatives (which Brooks draws from Mason Currey). For example…
Maya Angelou, we learn, was up by 5:30 and writing by 6:30 in a small hotel room she kept just for this purpose.
John Cheever would write every day in the storage unit of his apartment. (In his boxer shorts, it turns out.)
Anthony Trollope would write 250 words every 15 minutes for two and a half hours while his servant brought coffee at precise times.
To summarize these observations, Brooks quotes Henry Miller: "I know that to sustain these true moments of insight, one has to be highly disciplined, lead a disciplined life."
He then offers his own more bluntly accurate summary: "[Great creative minds] think like artists but work like accountants."
Or, to put it in Study Hacks lingo: "deep insight requires a disciplined commitment to deep work."
Keeping these insights in mind, now consider the following article posted on Time.com the day before Brooks's column: 9 Rules for Emailing From Google Exec Eric Schmidt.
The piece offers an excerpt from Schmidt's new co-authored book, How Google Works. Here's the first piece of advice it offers:
"1. Respond Quickly. There are people who can be relied upon to respond promptly to emails, and those who can't. Strive to be one of the former. Most of the best—and busiest—people we know act quickly on their emails."
This juxtaposition represents a trend that puzzles me.
We know, as Brooks observed, that brilliant creative work requires repeated long periods of uninterrupted depth.
We hear often that brilliant creative work is incredibly valuable in our current business culture.
And yet this same culture ignores depth and continues to glorify connectivity (as Schmidt exemplifies).
(Some might argue that you can do both, spending most of your time responding quickly to communication, then carving out additional time to go deep when needed: but the research shows our mind doesn't work that way; and most people probably intuitively understand this.)
To explain this trend, it might just be the case that in business, the impact of constant connectivity on one's marginal productivity outpaces the impact of deep work.
But at the same time, if one is feeling a bit cynical, it might seem like a lot of this preference for connection over depth is due to the fact that although the Eric Schmidts of the world like the idea of creative insights, in the moment they like even more the convenience of getting a quick response to their messages.
And I would suspect that Maya Angelou was probably terrible at e-mail.