The Book Arrives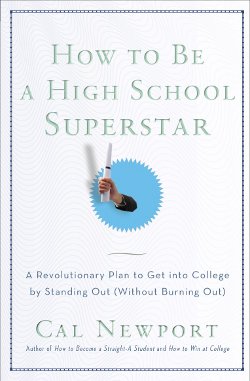 Over the weekend, I received a large box from Random House containing copies of my brand new book, How to Be a High School Superstar, which is coming out next week.  (Click here to pre-order.)
Here's what the book jacket says it's about: applying the philosophies of sustainable success I preach here at Study Hacks to high school — teaching students how to build interesting, engaging, and low-stress lives, yet still do well during the college admissions process.
Here's what it's secretly also about: my general philosophy on how anyone — be they a student or CEO — can build an interesting life. I combine a diverse collection of scientific results — from signaling theory to the economics of superstars — with in-depth case studies to deconstruct exactly how people become fascinating.

I Want Your Help
I tend to feel guilty about my abysmal book promotion skills. My lack of a Facebook fan page, for example, has been cast as a mortal sin. But as I explained to my publisher, I do have one secret weapon: the smartest, most engaged readers in the world of advice blogging.
Here's my request: if you're a serious fan of my philosophy, and believe this book deserves an audience, send me a proposal for how you can help spread the word. It can be something local, such as organizing a reading group with parents at your local church, or something epic, like convincing your good friend Oprah that it's worth a read.
I'll send a signed copy of the book — and my eternal gratitude — to the best (implemented) idea.
If there are lots of great ideas, I'll send out lots of signed copies. (I have a bunch.)
If the idea is particularly epic, I'll throw in a free phone consultation on admissions, interestingness, or whatever else you want to chat about.
If you're interested, e-mail me: author [at] calnewport.com
What to Expect Over the Next Few Weeks
The book launches next week on Tuesday, July 27th, so you're going to see a lot more post traffic over the next month or so.
As part of the promotion efforts, I've arranged fascinating guest posts with a series of high quality advice blogs.  I'll announce and summarize these posts as they go live in late July and early August. The result: expect a large amount of original content in the near future. 
These are exciting times. I hope you like the book, and I look forward to hearing your thoughts…