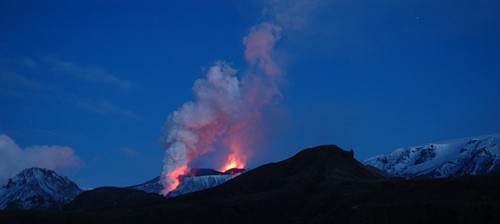 David had his epiphany not long after hiking an erupting volcano in the Fimmvörðuháls pass of southern Iceland. (Pictured above.)
At the time, he was a masters student spending a semester working with a team of seismologists.
He was also trying to figure out what to do with his life.
"I came full-circle on this issue of building an exciting life," he told me. "I ultimately rejected the low-cost, Internet-based cash-flow business model that Tim Ferriss and others advocate as the silver bullet."
To understand what he meant, you must first understand that David loved his time in Iceland. He developed a close group of friends and "spent evenings socializing, partying, exploring, and weekends hiking." He climbed volcanoes and bathed in hot springs. He got to work with world class researchers solving interesting problems in beautiful locations.
"It broke my heart to leave," he said.
David realized that an academic path could offer the exotic travel and flexibility promoted by lifestyle design gurus such as Ferriss, while also providing a sense of engagement and intellectual stimulation that would be hard to match on one's own.
So on returning to the States, he decided to continue into his school's PhD program. His first step, true to his desire to create an interesting life, was to "apply to every fellowship under the sun." He won an NSF award to research in Japan, where his work on earthquake prediction had suddenly taken on a renewed sense of importance.
"My long-term goals aren't clear yet," he told me.  "But I hope to place myself in a position where I can choose a nice place to live after the doctorate.  Sweden, Norway, New Zealand, New York, and California are all on the list."
The Lessons of David
What interests me about David's story is that it's relevant to both my student and my career advice.
On the student side, he's a perfect example of my Romantic Scholar approach, in which you construct an uncluttered schedule, and then immerse yourself in a single academic subject, allowing it to become a source of wonder and engagement.
The motto for this approach (which, officially speaking, is "one set of strategies for realizing my Zen Valedictorian philosophy"), is to "transform school into the foundation for a life well lived." David has done exactly this with his graduate student experience. He works hard, but by keeping his focus tight and seeking exotic projects, he also finds moments of sublimity in his efforts.
On the career side, he's a perfect example of my Career Craftsman philosophy, which says that you don't discover work you love, but instead craft it by becoming good at something rare and valuable and then cashing this in for the traits you care about. David embodies this idea. Instead of dropping out of his academic program to try to remake his career from scratch, he got good enough at what he was already doing that he could leverage this value to move his life in interesting directions.
(It's this last bit, of course, that's key — most people who get good at something don't leverage this to make their life more interesting. I've spent enough time around burnt out — but brilliant — MIT students and their IHTFP culture to understand this reality.)
"These good things are the result of plain hard work: by busting my ass and distinguishing myself from me peers, good opportunities started to roll in." David concluded.  "Working hard is not as sexy as dropping everything to start an Internet business, but I'm convinced."
To summarize: If you're a graduate student, let David's story inspire you that your life can be exotic and engaging, not downtrodden and grinding — if you're willing to do less, do what you do well, and approach your work with a sense of wonder. And if you're out of school, let his story broaden your thinking on how people end up with work they love. Obviously, I don't think that joining a doctoral program is a good lifestyle design strategy for most people, but what David demonstrates is that value is value — be it value to your research advisor or the value of your online business — and as such, it can be cashed in for the types of traits that define a remarkable life. Focus on leveraging value, not where it comes from.
(Photo by sturla)
#####
A pair of housekeeping notes: