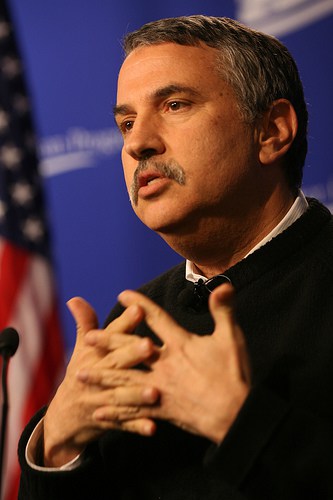 Last night, I watched Thomas Friedman's interview with Piers Morgan. He was talking about his new book, That Used to Be Us: How America Fell Behind in the World It Invented and How We Can Come Back. At one point during the interview, when Morgan asked Friedman his advice for young workers, Friedman replied, in his trademark catchphrase style, "the Age of Average is over."
He then continued: "You should aim to be an artisan…everything thing you do, you should be proud of, willing to put your initials on it."
This sounds an awful lot like my Career Craftsman philosophy, which argues that compelling careers are crafted (not discovered), and the fuel for this process is producing things of real value. This philosophy requires that you approach your work, to use Friedman's term, as an artisan, worrying about what you offer the world, not what the world can offer you.
In a hyper-competitive, globalized economy (to use more Friedman terms), believing that the working world owes you a dream job is no longer tenable.
What's interesting is that Friedman is not the first Times columnist to echo the career ideas we've been exploring here. Back in June, David Brooks argued that "follow your passion" is bad advice — a theme I've been hammering home for years.
I think there's only one conclusion to make in light of these recent events: The Gray Lady takes it cues from Study Hacks.
(Photo by Center for American Progress)
#####
On an unrelated note, longtime friend of Study Hacks, Scott Young, just posted a bunch of free material from his popular Learning on Steroids student advice program. To find it, click here then follow the links on the right under the heading "Bootcamp Schedule."