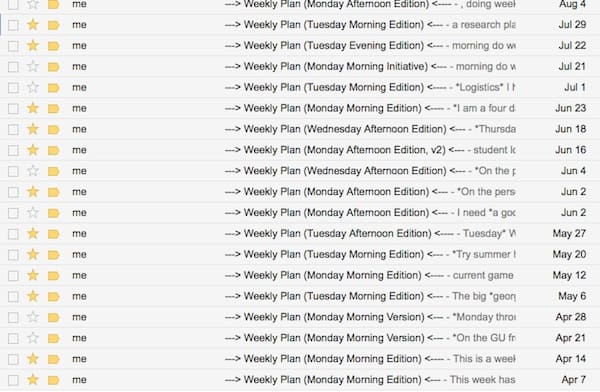 The Internet Heretic
I previously admitted that I don't web surf and that I've never had a social media account. This next admission might be the final straw that leads to the permanent revocation of my internet privileges: I'm bad at answering e-mails.
I sometimes go a whole day without looking at my inbox (and sometimes even longer). I ignore messages. People I know well tend to call me when they really need to know something.
I'm not bad at e-mails on purpose. If anything, I'm apologetic and ashamed about it and try to be more responsive when I can. But I only have so many hours to work each day, and I tend to block as much as I can get away with for deep efforts.
This philosophy is a boon to my role as a theoretician trying to solve interesting problems, but a bane to my role as a member of a bureaucracy.
Accepting E-mail Mediocrity
If I step back for a moment, however, it becomes clear that this trade-off makes sense. As a professor at a research institution it's okay to be bad at e-mail. Indeed, it's much better that I be bad at e-mail and good at research than the inverse.
And I think this observation generalizes.
At some point in the 1990's, we (knowledge workers) all seemed to internalize this ethic that any e-mail arriving in our inbox was crucial and important and demanding immediate attention. We were transformed into human network routers fiercely fighting to improve our throughput.
We began to strive for an empty inbox and the most efficient possible strategies for quickly processing this deluge. The twenty-minute response time became an aspirational standard.
But I want to propose an alternative: Not everyone needs to be easily reached by e-mail.
Some people, such as those who deal with clients all day or manage large teams that crave frequent guidance, should be pros at this skill. But other people, like computer programmers, writers, advertising gurus and professors, should be free to suck at e-mail just as much as they might suck at other skills that aren't that relevant to their core value proposition.
I know this is a basic thing to say, but I suspect it's worth reiterating.
If you disagree, you could e-mail me about it, but bear with me, it might take me a while to respond.