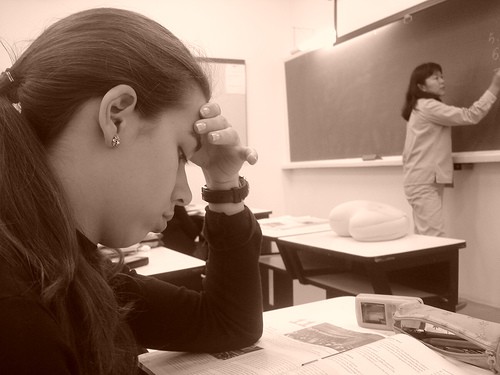 The War Against Extrinsic Motivation

In 1999, Alfie Kohn, an education writer described by Time magazine as "perhaps the country's most outspoken critic of education's fixation on grades," published an article in High School Magazine titled "From Degrading to De-Grading." It listed many arguments against grades, but its first is the most repeated: "Grades tend to reduce students' interest in the learning itself." As Kohn explained: "One of the most well-researched findings in the field of motivational psychology is that the more people are rewarded for doing something, the more they tend to lose interest."
Kohn is referring to the voluminous research on the difference between extrinsic and intrinsic motivation. The former describes motivation that comes from rewards or punishments outside the task, like studying to achieve a good grade. The latter describes motivation for the task itself, like practicing the guitar simply because you enjoy practicing the guitar. The popular understanding of these motivations, as demonstrated by Kohn's conclusions about grades and learning, is that when you do something for an extrinsic reward, you lose your interest for the subject.
And this presents a problem for students…
It would be great, of course, if students could find intrinsic motivation for all academic work, but this is a pipe dream. As you move through high school and into college, work becomes demanding. Few can summon an intrinsic interest in reviewing 200 pages of AP history notes or memorizing organic chemistry equations: these are hard tasks, which require the unpleasant mental strain of hard focus. In other words, a large percentage of student work will remain extrinsically motivated — we do it to for the grade and the interesting options a good GPA attracts, or to build the expertise needed for a remarkable life.
If the fears of Kohn are true, then this spells disaster for our Romantic Scholar project. How can we make school the foundation of an interesting life if the work required is destined to become something we lose interest in?
Fortunately, this popular understanding of motivation is woefully dated. The past thirty years of social psychology research has identified many different types of extrinsic motivation, and it clearly shows that doing something for an external reward does not necessarily doom you to losing interest.
In this post, I want to draw from this research to hack the psychology of student motivation: providing you with concrete strategies for embracing even the most demanding academic challenges.
Rethinking Motivation
In an influential paper, published in 2000 in the journal Contemporary Educational Psychology, social psychologists Richard Ryan and Edward Deci call out researchers who are still using an outdated understanding of motivation.
"In the classic literature, extrinsic motivation has typically been characterised as a pale and impoverished…form of motivation," they begin, early in the paper's introduction. "However, [the past thirty years of motivational psychology research] proposes that there are varied types of extrinsic motivation…some of which represent active, agentic states", (where "active, agentic states" is psychologist speak for "states where people are fired up about what they're doing").
Ryan and Deci then present a continuum of extrinsic motivation. On one end is what they call external regulation of motivation. This is where you do work only to avoid a punishment or achieve a reward. Not surprisingly, this is not a sustainable strategy; it feels "alienating" and "controlled," and it's why in laboratory experiments the subjects who are paid to do creative tasks, like solving puzzles, get turned off and start performing poorly. (This was the type of study that led an earlier generation of psychologists to believe all extrinsic motivation was bad.)
On the other end of this continuum, however, is integrated regulation. When you experience this type of regulation, you're still doing work for reasons outside of the work itself, but two other properties now also hold:
your reasons for the task match your deeply-held values; and
your approach to the task is self-determined, not something someone imposed on you.
As Ryan and Deci note, this form of extrinsic motivation "shares many of the qualities with intrinsic motivation," and is the type of good extrinsic motivation missed by the early research on the subject.
Clearly, this is the best you can hope for when it comes to feeling motivation toward your most difficult school work, so let's find out how to make this happen…
Hacking the Psychology of Student Motivation
To develop integrated regulation of your motivation for your school work, you need to satisfy the two properties described above. Here's my advice for satisfying the first, which requires that your motivation for the work match your values:
Follow the Roberts Method. This collection of strategies helps you develop a deep interest in your major, which, in turn, will convince you that the hard work required by your major is worthwhile. If you're in high school, the Roberts Method is easily adapted to your setting and can offer the same benefits: instead of declaring a major, as you would at college, choose a deep question to take its place. For example,  "what makes great writing great?", or "what are the laws that explain Nature's marvels?".
Use Lifestyle-Centric Career Planning. This strategy helps you choose between potential careers by working backward from the general traits of a life well-lived. Identifying these general traits also provides a personal answer to the question of why you're going through school.
The second property requires that your approach to a task is "self-determined." The most powerful way for a student to achieve this feeling is to disassociate your work from its deadline. Most students let the pressure of a deadline motivate them into action: if I don't start working I'll run out of time before I finish and be punished with a ruinous grade! This fear of punishment is way over on the external regulation end of Ryan and Deci's continuum, and it's a recipe for burn out at best and deep procrastination at worst.
On the other hand, if you're able to start and finish work early — perhaps even radically early — you not only avoid the feeling of external regulation, but the sheer novelty of your approach — at least, as compared to other students  — gives you the sense of self-determination required to experience integrated regulation.
Many students balk at the idea of deadline disassociation. "I could never start work early!," they cry. This is nonsense. You just need the right strategies to walk you through the process:
Do Less. Deadline disassociation requires that you have room to maneuver in your schedule. If you're still convinced that a crowded schedule of classes and activities is essential to look "impressive," first read my recent article on double majors ruining your life, then, if still not convinced, read my new book on doing well in college admissions without hating your life: it's essentially a 250-page argument in favor of a minimalist student lifestyle.
Use an Autopilot Schedule. This technique identifies fixed times in your weekly schedule for regularly occurring school work. It's absolutely essential for the advice that follows. If you dabbled with these schedules before and failed, see my four post series, 4 Weeks to a 4.0, which will help ease you into a more structured lifestyle. If you're a high school student, read the Part 1 playbook of the blue book: it adapts this approach to the unique demands of a high school schedule.
Use a 24-Hour Tether. Insist on starting every assignment within 24 hours after it is given out. To make this a reality, adjust your autopilot schedule to include a block for each class within 24 hours of that class's meeting time. Use this strategy on both regular assignments and long term assignments, like paper writing. There's something magical about doing an hour of work on a two-month long term paper the day after it's assigned. For more details on this approach, see my article on the ESS method.
Overschedule by 20%. When setting up your autopilot schedule for a given class, assign yourself about 20% more time than you think you need to complete that class's assignments. If you finish the current week's assignments for a class, but more time remains in your autopilot schedule, use it to get ahead on your work. Over time, you will begin to slip farther and farther ahead in the syllabus, yielding a powerful sense of deadline disassociation.
Beyond an Intrinsic Utopia
Some of the most engaged and successful students I know seem oblivious to procrastination. They tackle demanding courses with ease, starting work early, focusing hard, and coming out on the other end with a smile and an 'A.' The science of motivation — the real science, not the out-dated "extrinsic = bad" crap still promoted by pop-psychologists — offers an explanation. These students aren't special, and contrary to the wildest dreams of many education theorists, they don't feel intrinsic motivation for every assignment — o-chem does, and always will, suck — but they have figured out how to make their extrinsic motivation a sustainable strategy. They connect external rewards to deep values and they adopt a self-determined approach to their assignments.
These are simple ideas, but they are too often over-looked. To make the Romantic Scholar lifestyle a reality, you should take them seriously.
###
This post is the fourth in my series on the Romantic Scholar approach to student life, which details a collection of strategies to transform school from a trial to survive into the foundation of a life well-lived. Roughly every other post on Study Hacks in the near future will be dedicated to this series.
Past articles:
(photo by Orange42)