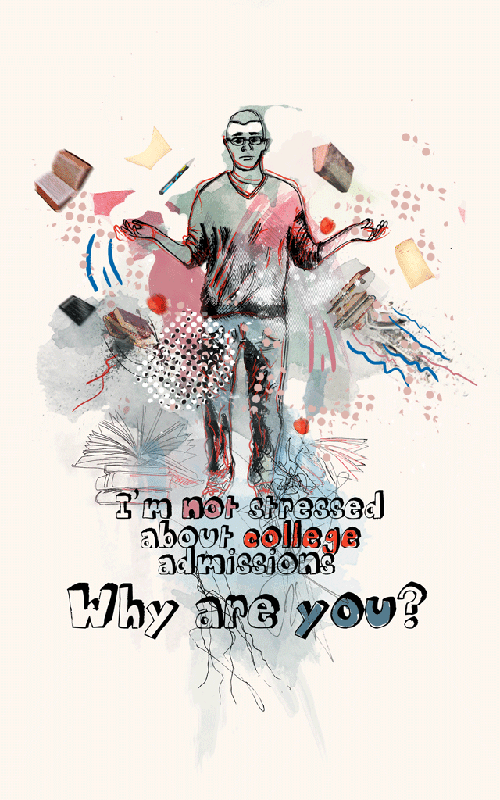 The Race to Somewhere
The new documentary Race to Nowhere, following the tradition of movies such as Food Inc. and An Inconvenient Truth, is less about introducing a new idea, and more about providing a clear distillation of ideas already on peoples' minds. This film, which presents a concerned mother's investigation of the "high-stakes, high-pressure culture" of the American educational system, provides parents a focus for their otherwise ambiguous unease about rising student stress.
As one mother reacted after a Washington D.C.-area screening:  "I think more people need to be willing to take a step back and ask, 'Why are we doing this?'" She then spread the word about the film to her local PTA.
Like most good issue films, Race to Nowhere separates the problem from the solution.  "[The co-directors] admirably convey the complexity of the issue with considerably more compassion than prescription," complimented The New York Times. But now that this documentary has succeeded, and the issue of student stress is once again a hot topic, commentators such as myself can safely join the "prescription" side of this conversation.
Accordingly, in this essay, I want to present my unconventional view on student stress at the secondary school level: the college admissions process, which is the main driver of student stress, doesn't have to be a bad thing, and in fact, if approached correctly, can instead become the foundation for a life well-lived.
The Attack on Ambition
Though Race to Nowhere is purposefully vague on solutions to the student stress epidemic, its general philosophy, which is echoed by many, is clear. It goes something like this:
The ambition to get into a good college drives students to unhealthy amounts of work and anxiety which breeds many problems.
Therefore, we need to reduce this ambition.
There are two approaches commonly proposed for this reduction: systemic and psychological.
The former describes strategies school systems can deploy to limit how students pursue their ambition — reducing homework loads, for example, or eliminating A.P. courses. (In response to a screening of the film, one Washington D.C.-area high school formed a "Stressbusters Committee" which returned with a recommendation to eliminate homework over holiday weekends. Problem solved!)
The second approach captures the idea that we should redefine students' understanding of success, convincing them that, to use the words of a guidance counselor I recently interviewed, "there's more to life than Harvard."
These approaches, however, have been around for a while, and have generally failed to produce any significant decrease in student stress. The reason for this failure is clear: many people don't buy the argument that it's good to reduce ambition.
"Our society rewards competition…you're not going to be able to avoid that," said a father of four after seeing a screening of Race to Nowhere in Bethesda, Maryland.
"I think we are anxious about this stuff," added a mother of two at the same screening.  "But when you step back and say, 'It's not important,' you worry about that too."
These parents are reacting to an important truth: being impressive matters. Students who get into good colleges are surrounded by more interesting people and get first dibs at the most interesting job opportunities (even though we bend over backwards to convince ourselves this is not true), those who stand out in their entry level jobs then get the most interesting promotions, and so on.
The financial freedom that allowed co-director Vicki Abeles to make Race to Nowhere, for example, comes from her career as successful attorney — a path that required standing out again and again.
Put another way: convincing a student that there's more to life than Harvard might save him a couple years of teenage stress, but might also condemn him to a lifetime of less inspiring jobs and the nagging drag of wasted potential.
This is where my approach enters the scene…
Redefine — Don't Reduce — Ambition
Last summer, I published a book with a surprising premise: there exists a large community of high school students who do well in the college admissions process while still enjoying their lives. I called these students relaxed superstars. We rarely hear their stories in the admissions stress debate, but they're common: most high schools have at least one laid back senior who surprises everyone when he gets accepted to Stanford.
Most ambitious high school students adopt a survival mindset that says: "if I can only make it through a couple more years of this brutal work load and get accepted to my reach school, then I'll be set!" Relaxed superstars reject this mindset. They understand, as explained above, that impressiveness is not a one-shot deal. You have to keep investing effort to stand out through college and beyond. Accordingly, the survival mindset is short-sighted. At the same time, however, they embrace the idea that living up to your potential helps build an interesting life.
In response to these observations, the relaxed superstars adopt the following philosophy:
Ambition is good because standing out leads to interesting opportunities in life.
These opportunities, however, are wasted if you have to suffer to maintain them, therefore the only acceptable paths to achievement are those that are compatible with a happy life right now.
For these students, this philosophy led to a radical new approach to the college admissions process. For example, they ruthlessly culled their schedules down to a small number of things, but then immersed themselves totally in these select worlds, bringing the activities to fascinating, impressive places. This strategy not only got these students accepted to elite colleges, but allowed them to do so why still enjoying their lives. In fact, these relaxed superstar are probably some of the most happy teenagers I have ever encountered. (See my book and my college admissions article archive for more details on their radical strategies.)
Here's my central thesis: We should use the relaxed superstar model to combat student stress! That is, we should reject the survival mindset that leads to stress and depression, but at the same time, we should also reject any call to reduce ambition. Students and their parents should instead embrace the college admissions process as the perfect opportunity to develop a skill crucial to leading an interesting and happy life: figuring out how to pursue exciting ambitions in a sustainable manner.
(Image by Arturas Petkevicius)