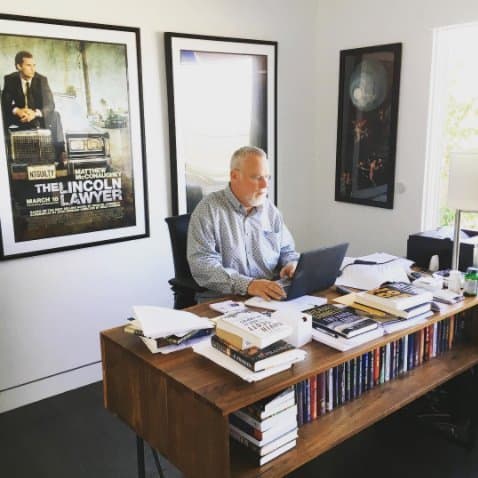 One of the notable realities of my life, given the topics I write about, is the regularity with which people send me various articles about the work habits of the novelist Michael Connelly. Here's a representative sample from an interview published in The Daily Beast: 
"I get up to write while it's still dark, 5 or 5:30. I start by editing and rewriting everything I did the day before, and that gives some momentum for the day. I get to new territory when the sun is coming up. I take a break to take my daughter to school…then I get back to it. If it's early in a book, I'll only write til lunch, because it can be hard for me to get that momentum going. If it's late in a book and really flowing, I'll just keep writing and writing until I'm either too tired or have been called to dinner."
He later elaborates that he uses blackout shades to transform his writing office into a space beyond time. "You don't know if it's light or dark," he explains. "I just try to put everything else out of focus and look only at the screen of my laptop."
This routine is common among popular genre fiction writers (see, for example, John Grisham or Lee Child). To fulfill the economic necessity of publishing one book per year — which, as I can tell you from experience, is really hard — they strip down their work habits to support maximum cognitive output.
For the rest of us, drowning in our inboxes and Zoom invites, this should be more than a source of aspirational escape. It represents a reminder that getting the most out of the messy jumble of neurons known as the human brain requires sacrifices. To instead orient work around pleasing everyone who might need you in the moment is to ultimately please no one with the quality of what you produce.