To-Do Lists Are Dangerous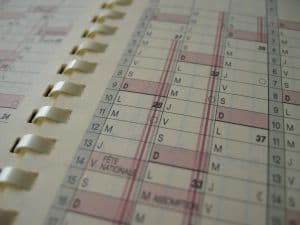 Many students are tempted to run their day based on a comprehensive to-do list. In practice, these lists are hopelessly ambitious. Few things get completed. Many small tasks get punted day after day. And frustration mounts.
In short: to-do lists are a terrible daily planning tool. Why is this? They are missing two key pieces of information:
How long each task requires.
How much and where your free time is available for the day.
Without these two facts, you are stumbling blindly, hoping your random decisions of what to do (or not do) at a given moment will lead to an efficient schedule. Here's the secret: it won't.
Case Study: A Typical To-Do Debacle

Consider the following case study. On the left is a standard student to-do list. On the right is a standard student schedule. The arrows connect the tasks to when the hypothetical student, running his day off of the list, tackles them: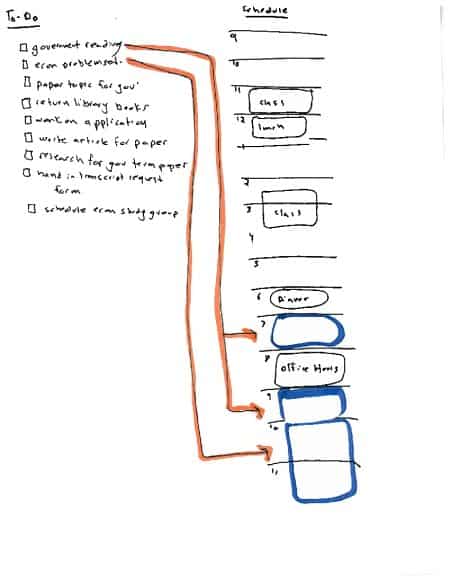 The student procrastinates until after dinner when he feels the time is right to get some work done. He sorely underestimates how long his tasks will take. His reading assignment gets split by office hours, and the econ problem set takes him until midnight. In the end, his evening was exhausting and a lot was left unaccomplished.
The Time Blocking Solution
There is a simple addition to your to-do list that solves these problems. The idea is simple: Assign specific times on your schedule for when you want to complete specific tasks. This approach provides a surprising number of immediate benefits:
Starting from your schedule, you are more likely to take advantage of smaller chunks of time open earlier in the day. (Chunks you would have otherwise wasted).
Assigning work to times reduces the urge to procrastinate. You are no longer deciding whether or not to work during a given period; the decision is already made.
You are more likely to fit in urgent small tasks between the bigger time-consuming tasks.
Over time, the technique will increase your ability to predict how much time work really requires — leading you to start things early enough to get them done without late night pain.
Case Study: Time Blocking Cleans Up the Schedule
Here is the same to-do list and schedule as before. This time, however, the student uses time blocking to lay out a reasonable schedule in advance.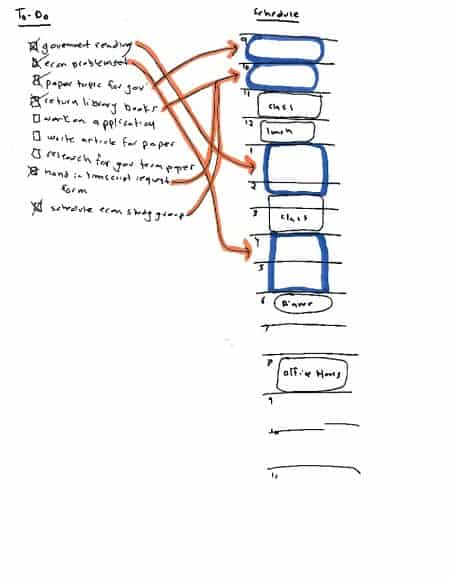 Notice how much more work gets done and how much earlier. Those five minutes, first thing in the morning, to work out a blocking schedule, provides the student full control over his time landscape.