Advice, Advice Everywhere…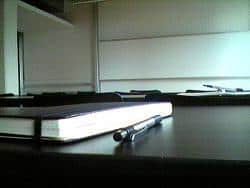 The good thing about this season is that back to school advice is available everywhere you turn. The problem, however, is that once you've read one article about smart course selection or staying organized, you've read them all.
In this post, I want to offer a collection of advice that's off the beaten path; nuggets of wisdom you won't find anywhere else. As always, don't let me have the last word. If there's an unexpected  tip you'll be using this year, let us know by leaving a comment.
Five Pieces of Unexpected Back to School Advice
Party Hard the First Few Weeks.
Your social life needs a running start. Once the term progresses and schedules tighten, it becomes harder to fall in with new crowds. Build your social momentum by partying hard now, while you still have the time. This will make it easier to keep the invites and social options rolling in all the way to finals.
Quit Most of Your Activities.
I don't know you. But I can assume you're probably doing way too many activities, fueled by some vague belief that this makes you more impressive or is necessary to get into law school. Ugh. Here's what you should do instead. First, read this article. Second, quit all of your activities except the one or two that you've been involved with the longest. Third, work hard during the fall semester to take on a difficult project within the activity, and follow it through to completion. Fourth, in the spring semester, use your newly earned respect to pitch an unusual project that will impress outsiders because it defies easy explanation. Fifth, read this article so you understand what the hell I'm talking about. Sixth, reap the disproportionate reward for replacing a laundry-list with focus and innovation.
Buy a Fancy New Planner.
A moleskin is nice. It makes you feel like a young Picasso. My new productivity crush, however, is the beautiful muji chronotebook (which will be released any day now). Whatever you choose, there's a simple justification for upgrading: the excitement of buying a planner that's cool and fancy will make you more productive. It shouldn't. But it does. So treat yourself.
Drop One of Your Courses.
Once again, I don't know you. But I will assume that your course load is tougher than necessary. You think this makes you look talented and smart. Here's the reality: no one cares. So drop one of the tougher courses and spend your free time obsessing over your new planner.
Apply for Something.
Go to the building that houses your major department. Find a bulletin board. Read the attached flyers for fellowships, scholarships, and special programs. Choose one. Apply to it. The cooler sounding the better. Do it now, before things gets too busy. Great things comes to those who actually do things. Not just recognition, but also experience and connections and unexpected random future opportunities. So place yourself in the top 1% of your class by actually taking the time to try.
(Photo by dyobmit)