[UPDATE: 2/18/08] Welcome new readers! If this is your first time here, Study Hacks is a blog that focuses on hacks to help you do better at college (and in life) while spending less time. If you like this article, you might also like related productivity posts on: accomplishing more by doing less, using a productivity-free day, implementing a Sunday ritual, and calculating your churn rate. If you like what you see, consider subscribing to the blog's RSS feed.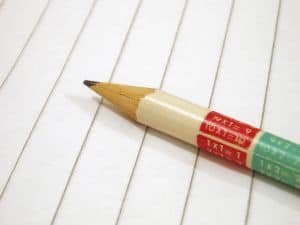 The Pain of Writing
Students hate paper writing. It's not the writing itself that's horrible, but instead, being forced to write when you don't want to. Is there any worse feeling than staring at a half-completed term paper at 2 AM?
The solution is simple. Schedule your writing better. But the specifics can be tricky. What's the best way to schedule writing? Clear out a full day? Do it a little bit at a time? Work at night once you've finished all of your other work? I could give you some answers that sound right, but (for now) forget about me. Let's see what the pros have to say…
How Professional Writers Write
Professional writers spend most days of their adult lives writing. For those among them who specialize on long form non-fiction, their writing is not that different from the types of research papers that plague college students. Assuming that these writers do not want to spend most of the days of their adult lives hating what they are doing, it stands to reason that, over time, they have figured the least painful possible way to schedule a large amount of writing.
With this in mind, I dug up interviews with the following masters of long form non-fiction:
Ted Conover
Richard Ben Cramer,
Jonathan Harr
Jon Krakauer
Michael Lewis
Susan Orlean
Richard Preston
Eric Schlosser
Gay Talese
Calvin Trillin.
I went through each interview extracting any discussions about the writer's habits. I've aggregated and analyzed this data to provide you with a snapshot of how professional writers schedule their writing. At the end of this post I will discuss how to apply these observations to your own student writing assignments. Notice this advice is applicable beyond just students. Anyone who has to regularly churn out writing — be it a blogger or a part-time freelancer — can benefit from the habits of the pros.
When During the Day Do Professional Writers Write?
Nine out of ten writers discussed when during the day they write. All nine worked in the morning. Four also worked during the afternoon. Three worked during night. Only one worked in all three times. Several writers described the afternoon as a mental dead time useful only for exercising and, maybe, editing.
At What Time Do Professional Writers Start Writing?
Five out of the ten writers provided a specific start time. The latest was 8:30 am. Four other writers who didn't give a specific time said, in so many words, "in the morning." No writer described starting their work in the afternoon or evening. Several did mention that they might also be efficient working very late at night (and sleeping through the day), but that this seems incompatible with being a productive member of society.
Where Do Professional Writers Write?
Six out of the ten writers answered this question. All six described a silent, isolated location, free of distractions. Specifically, they provided the following answers:
Office in the garage with no window
An old tenant farmer's house
A 9×9 cubicle in the basement
A small redwood cabin, 100 yards from the main house
A bare office
A home office with no phone or Internet
It should be noted, however, that the magazine writers among our sample admitted to being able to write in almost any environment — a trait learned from crashing deadlines on the road. Jon Krakauer also mentioned that his dream was to write in the morning in an isolated cabin, and then spend the afternoon's climbing. He is yet to realize this dream.
Observations…
The most striking observations from this study:
The writers work in the morning. They often start very early in the morning.
Five out of ten of the writers described a little ritual before starting their morning writing. A surprising number of these rituals focused on The New York Times.
The writers drink coffee. Lots of coffee.
The writers write in isolation. If they didn't have families they would push this even farther. Many discussed having no e-mail or phone in their workspace. One purposefully used a "shitty old laptop" to avoid temptations like solitaire. Gay Talese rigged his home office so it could only be entered through a separate outside door.
How to Apply this Advice
If you are a student — or an amateur writer or blogger — here are some simple rules for emulating the habits of the professionals:
Spread out work on an assignment over several days. Coming at it fresh increases its quality.
During these days, get up early. Probably earlier than you are used to. Say, around 7 or 8 am. (This means these days will be weekdays, probably early in the week so you can avoid temptations to party the night before).
Have a mini-ritual to jump start the day. It should probably involve coffee. Breakfast. Maybe the morning paper. Don't take too long.
Go to the most isolated place possible.
To get your mind ready to think, review the last pages you wrote.
Work for two or three hours. Then stop.
Follow this habit regularly. Don't write during other times. Don't write in public places. Don't start writing the day before.
Interestingly, without knowing it, I stumbled across many of these same scheduling habits during the fall of my senior year at Dartmouth. At the time, I was balancing my normal student responsibilities with the writing of the manuscript for my first book. The method I used: I got at 8 AM, every weekday morning, brewed a cup of coffee and wrote for 1.5 hours at my desk — all without leaving my room. After I was done, my real day could begin. It worked beautifully.
What writing habits work for you? What habits do you need to abandon?
Related Posts