One is the Loneliest…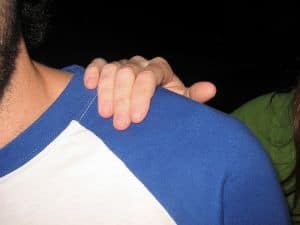 Working on college assignments is a lonely affair. It's just you, a big pile of ambiguously defined work, and that lovely little voice in your head, trying, with all of its devilish might, to navigate you down some of the worst possible work paths — "No," it yells, "it would be ridiculous to start so early, you have, literally, hours before this assignment is due…let's go drink." The result: last minute frenzies; all-nighters; angry conversations with your parents about how they don't understand the difficulty of your schedule. The usual.
Team Professor
Here is a simple strategy to add some accountability into this process (at least, the process as it applies to writing major papers): Meet with your professor every other week during her officer hours, starting with the week the paper is assigned. Use this time to discuss your paper in progress and refine your efforts going forward.
Worry not. You're not disrupting the professor: office hours are mandated by the school and this time is open for exactly this purpose — students wanting to discuss issues relevant to class. Indeed, many professors are glad to have any student actually show up.
The question, of course, is what to talk about. Let's start with the bad…
What Not to Discuss
A few ground rules:
Don't ask a professor to read a draft. The writing is your job. If you need help, visit your campus composition center.
Don't list your woes. For some reason, and I haven't quite figured this out yet, many students ask for help by trying to convince the other person that they are beyond help. Avoid this. Don't run down your sad sap list about how hard it is for you to make progress on the paper. ("I looked everywhere, and can't find a single mention of this person…")
Don't ask "what's next" questions. These meetings can be used to discuss specific issues or ideas. Don't just say, "I don't know what to do," and hope the professor will start making decisions for you.
What You Should Discuss
With these prohibitions out of the way, we can turn toward to good. So what do you discuss in these meetings? In general, follow this structure:
Summarize the work you've done so far. What sources have you looked at? How did you find them?
Discuss the content, not the assignment. Forget the paper for a second. What interested you in the research you've done so far? What surprised you? What was a waste of time? Discuss the current version of the story you are putting together for the paper.
Outline your options for moving forward over the next two weeks. Where do you want to be in two weeks? What's your plan for getting there?
Ask for advice. Now that the professor understands where you stand intellectually and logistically, she can offer some guidance. She might, for example, challenge you on your story, pushing you in places to develop more nuance. She might also point you toward some sources that you did not know about. Finally, she might have some tips for accomplishing your two week goal. Take it all in…
Make it Happen
Finish what you said you would. When you show up in two weeks, you should have completed what you discussed in the last office hours and have a new set of insights and goals to review.
The benefits of this process are two-fold. One, you're making regular progress, early on in the assignment. Two, your efforts are being tweaked and shaped by the most useful possible source: your professor. This ensures that not only is your paper going to get accomplished without crazed, all-night frenzies, but that, also, you're on your way toward producing a sophisticated piece of writing.
In short: Less pain. Better grade.