The Outline Orthodoxy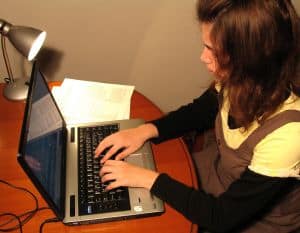 For decades, students have been held captive by a rigid paper outline orthodoxy. It is first ingrained in elementary school and then reinforced, year after year, until college graduation. Visit the web site for your school's academic skills department and you'll find some variation on the following advice:
The basic format for an outline should use an alternating series of numbers and letters, indented accordingly, to indicate levels of importance.
This leads to examples such as:
Rothko Chapel in Houston

Architecture

Letter to Philip Johnson proposing idea
The three concepts suggested in first conversation
…and so on.
Here's the rub: this format is nonsense! It's way too confining. It's impossible to figure out every detail of your argument before you sit down, look at your sources, and actually try to write. Most students abandon their hierarchical outline soon after their fingers hit the keyboard. Those that stick with it end up producing dry, forced-sounding arguments.
I want to show you a better way…
Introducing the Topic
Forget hierarchies. Your outline should capture the topics you want to discuss in your paper. A topic is more general than a specific fact or observation, but less general that a multi-argument discussion. For example:
"Letter to Philip Johnson suggesting chapel idea" is too specific to be a topic.
"The conception and construction of the Rothko chapel" is too general to be a topic.
"Rothko's Courting of Philip Johnson" is a perfect topic.
Topics are what you'll capture with our outlining process. You do so as follows…
Step 1: The Topic Skeleton
During the story crafting stage of the paper writing process (discussed in detail here), you'll start determining, based on the sources you've discovered so far, what topics you want to cover in your paper. Start recording these in a word processor document.
As you work on your argument, you will begin to order these topics into the order that you want them to appear in your paper. Once this ordering is complete, you have constructed a topic skeleton. It describes, at a rough granularity, what you want to talk about and in what order.
Step 2: Fill In Research Gaps
Once you're happy with your topic skeleton, consult the sources you discovered during your research process. Make sure you have solid sources for each of the topics in your topic skeleton. If you discover a topic that is lacking in information, go back to the library to find more information to fill in this gap. (Remember, make personal copies of your sources for easier handling.)
Step 3: Dump the Quotes
Here is where our process really challenges the outline orthodoxy. Stick with me here. This works…
In the document containing your topic skeleton: start typing, under each topic, all of the quotes from your sources that you think are relevant. Label each quote with the source it came from.
We call the final document a topic-level outline. Unlike the compact, hierarchical outlines promoted by the orthodoxy, a topic-level outline is huge (close the size of your finished paper), and flat in structure (no reason to use 18 different levels of indentations here.)
Step 4: Transform, Don't Create
When you write your paper, don't start from a blank document. Instead, make a copy of your topic-level outline and transform it into the finished paper. For each topic, begin writing, right under the topic header, grabbing the quotes you need as you move along. Remember, these quotes are right below you in the document and are immediately accessible.
Over time, each topic gets transformed from a collection of quotes into solid writing using those quotes. During this writing process, there is no need to ever leave this one document. This approach allows you too:
Write much more efficiently, without the delay of consulting sources.
Craft better arguments, because the raw material is already in front of you, reducing your task to simply to employing it in your rhetorical assault, no seeking it out.
Avoid the pain of facing a blank screen. The writing task is now one of transformation, not creation, which is much easier to tackle.
In Summary
To summarize the advice in this post:
Don't build a hierarchical outline. Instead, list the topics you want to tackle in the order you want to tackle.
Revisit the library to find sources for the topics that still need support.
Dump all relevant quotes from your sources under the topics.
Transform your topic-level outline into your paper. Don't start from a blank screen.
This process is different from what most students are used to. But it works. It is optimized for exactly the steps needed to write an outstanding paper. If you face a lot of writing assignments in your classes give this approach a try. You'll never look back…
Related Posts