The Fast and the Curious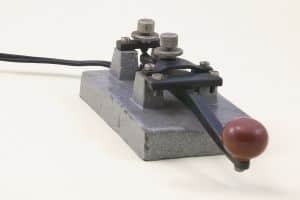 I'm currently taking a graduate seminar that assigns demanding articles of demanding length. Being somewhat busy, as I've mentioned before, I've recently been working to squeeze every last ounce of speed out of my note-taking habits. This has led me to a new note-taking approach I call the Morse Code Method. It's engineered to be fast. Blazingly fast; yet still be able to support the type of detailed comprehension needed to survive a three-hour, 10-person discussion-based seminar.
It works as follows…
Brain Drag
Forget time for a moment. Your worst enemy when tackling a reading assignment is that weighty, sleep-inducing brain-drag that starts to grow over time, making concentration increasingly difficult. What brings this on? A big factor is halting your reading momentum. If you cease forward movement with your eyes so you can, for example, underline a few lines, or draw a bracket next to paragraph, or, dare I say it, highlight a sentence, it will require a large energy burst to get started once again. Too many such stops and starts and your brain will be fried.
The Morse Code Method is based on the following idea: you should never stop reading until you're done with the entire article.
One continuous pass is the fastest, most energy-efficient possible way to get through a reading. It's also the least painful.
The Dot-Dash Notation
This begs an obvious question: if you don't stop your reading momentum, how do you make note of the important points? The answer is to deploy the following notation:
If you come across a sentence that seems to be laying out a big, interesting idea: draw a quick dot next to it in the margin.
If you come across an example or explanation that supports the previous big idea: draw a quick dash next to it in the margin.
From experimentation, I've learned that these dots and dashes are small enough that you can record them without breaking your reading momentum. In the end, your article will be a sequence of dots and dashes (like a Morse Code message!), effectively breaking down the reading into a useful sequence: big idea!, support, support, big idea!, support, support, support…
Processing
Once you've finished reading the entire article, it's time to take notes. Review the sentences that you dotted and dashed. For the dots that still strike you as important, paraphrase the main idea in your notes, in your own words. (The paraphrase is key: it forces you to processes the idea in your brain, not just reproduce it like a photocopier). For each of the following dashes that still strikes you as important, paraphrase the example or explanation in a bullet point.
Go quick. Don't worry about typos. Ignore fancy formatting. Just get the ideas down. As fast as possible.
Condensing
Now for the final step. This will only take you an extra couple minutes, but it's the crucial boost that will transform you from "reasonably familiar with the readings" to "class star":
Reviewing what you just recorded in your notes, think for a moment about the following: What is the main question being asked in the article and what's the conclusion the authors point toward? Record the question and conclusion in your notes.
Now you're done. Don't skip this last step! It is here that you pull out the big picture ideas that will form the core of class discussions, papers, and exam essay questions.
How This Compares to Classic Q/E/C Note-Taking
Fans of Straight-A might wonder how the Morse Code Method compares to the classical Question/Evidence/Conclusion approach. The answer: it's a variation. By having you read the article before identifying a question and conclusion, the Morse Code Method better handles complicated articles with subtle arguments. Also, by having you actually read — not just skim — every sentence, you're better prepared for more detailed discussions. When deciding what tactic to deploy, choose based on the needs of the class.