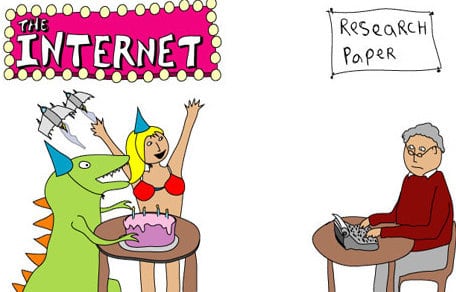 (Hat Tip: Academic Productivity via why that's delightful via OmniBrain via … via elephantitis of the mind)
Lincoln's Focused Childhood
I watched a documentary last night on the childhood of Abraham Lincoln. (Which is exactly the type of insane excitement you can expect at the 'ole Newport household.) What struck me was Lincoln's focus. The tale is classic: every night, by candlelight, the young man would read into the twilight hours: seeking to understand hard thoughts and develop his own. The ambition this knowledge sparked kicked off his famed political journey.
Lincoln, of course, was not alone. I recently read, for example, biographies of John Adams and Benjamin Franklin. Both had a similar self-instigated scholarly dedication to mastering hard ideas and developing their own views of the world.
Here's my question: would this have been possible in the age of the Internet?
The Era of Focus is Ending
Recent research reveals that the average office worker checks his e-mail 30 to 40 times an hour. I shudder to think what the results would be for a college student, working on an assignment with e-mail, gchat, twitter, and Facebook all standing at the ready.
Some companies, such as Intel, are even going so far as to instigate e-mail free days. The reason:
" [interruptions] prevent us from thinking carefully for any unbroken stretch of time."
The effect: hard thinking doesn't get done.
"After all, it's much easier to fire off 10 e-mails than to sit down for an hour and think hard about how to turn around your division's performance."
If the Internet is robbing us of our ability to sit and concentrate, without distraction, in a Lincoln log cabin style of intense focus, we must ask the obvious question: are we doomed to be a generation bereft of big ideas? Will we lose, over time, like some vestigial limb, our ability to focus on something difficult for extended stretches? As a graduate student, I've had to put in place what are, in essence, rigorous training programs to help pump up my attention span. It's a huge struggle for me. Somehow, I imagine, if Lincoln was in my position, he wouldn't be having this same problem.
Moving Forward
This post is more a meditation than a plan of action. There is no magic answer; just an important thought we should struggle to answer. History's great figures have been those who were willing to put in those long, hard hours of difficult focus on the difficult questions of their age. Do we have that ability in us And, if not, how do we start the process of gaining it back?
I'm interested in your thoughts…