The Student's Curse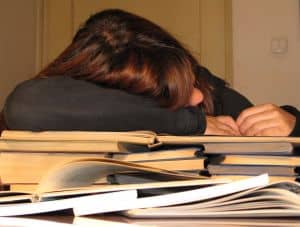 After spending years confronting the peculiar peccadilloes of the student set, I've learned that one problem, in particular, looms above the rest. I'm talking, of course, about procrastination. For many students, it's the personification of academic troubles: "if I could only stop procrastinating on my work, I would be doing fine."
My experience has revealed that there are two types of procrastination. The first, which I'll call light procrastination, is the standard resistance to shutting down e-mail or turning off the TV that we all feel. I've posted before on hacking this issue; simple tricks, like working according to a regular schedule, starting early rather than late, and keeping yourself well-fed.
The real monster, however, is what I call deep procrastination. This is a state, reached by an alarming number of students, in which the pressure of starting at the absolute last minute becomes necessary to motivate any work. Students who suffer from deep procrastination pull frequent all-nighters and are often found begging for extensions on assignments they couldn't bring themselves to begin before the deadline.
This is a serious problem, and I want to offer an unconventional solution — born from experience — for eliminating its worse effects.
The Roots of Deep Procrastination
The most common reason given for procrastination: work sucks. You assume you delay because the chore itself is brutal. But is this true?
Think back to the last assignment that you put off until the minute. Now imagine during the upcoming fall semester you have no courses to take. Your professor says he believes in your talent and that he wants you to complete this one assignment at your own pace.
For most students, the work would be rather enjoyable. Be it a research paper or a big chunk of reading, there is something very satisfying about mastering material over time. It makes you feel competent (one of our three basic psychological needs), and most people, when not under incredible pressure, actually enjoy learning new things.
The reason, then, that some students suffer from deep procrastination: their schedule as a whole is too demanding. Put simply, there is too much work and not enough time. Night after night they forced into a situation where they have to work, probably late, and this sucks. After a while a resentment grows toward their schoolwork — it is making their life miserable. And once they resent the work — and get none of the joys of competency and learning and mastery that classes could provide — their mind starts doing whatever it can to avoid getting started.
Curing Deep Procrastination
So what works? Stricter schedules and more intense productivity rules won't cut it. The problem is not disorganization, it is, instead, a deep-seated antipathy to student work in general. If you want to cure deep procrastination you have to remove the source of resentment. And this means doing less; much less.
Student's who shift to schedules with much more free time find themselves handling their workload without pain. Without the pain, they don't grow to resent their schedules. And without the resentment, no deep procrastination will arise.
This is somewhat unexpected, as making your schedule lighter makes it easier to procrastinate in the sense that you can get away with more last minute heroics. However, for most students, the opposite occurs. The light schedule takes away their fatigue, and a true interest in their work blossoms again. Guess what? When you're interested in your work, it's not that hard to get started…sometimes even real early.
Are You a Deep Procrastinator?
If your procrastination has gotten to the point where your grades are starting to suffer, or you're frequently working into the twilight hours to make deadlines at the last minute, seriously consider why this is happening, then ask yourself what you might gain by rebuilding a happy relationship with your schoolwork.
Here are a few past articles to help you get started:
The Zen Valedictorian
Take a look at law #1 (underschedule) for a discussion of how and why to keep your schedule light.
The Radical Simplicity Manifesto
No-nonsense advice for achieving an underscheduled lifestyle. It's based on the Rule of One: one major, one course load, and one extracurricular.
How to Be Happy
If you understand the science behind your happiness, you'll be more likely to take you course load seriously.