The SAT Season Looms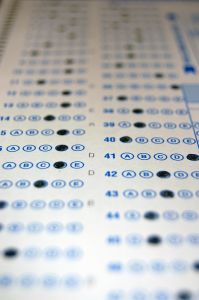 Over the past two weeks I've received three different e-mails asking for advice about SAT prep. I assume, therefore, that we've entered a season during which many high school students have begun to look ahead to this most dreaded of the standardized test family.
In this post, I want to summarize the system I typically recommend for high-performance SAT preparation. This advice is motivated by three sources: (1) my own experience preparing for the SAT (which I took only once and did pretty well on); (2) the results of a survey I conducted last fall about test prep habits that worked; and (3) observations I made about how a group of my college friends prepared for the LSATs (all three got into Harvard Law School, so they must have done something right.)
The Practice Test Tsunami

My system for SAT preparation works as follows:
Skim the Princeton Review Book. I find some of its advice to be simplistic (for example, all that nonsense about Joe Bloggs), but it also offers some concrete strategies for tackling the main question types. In particular, their methods for dealing with ratio problems on the math section, and analogies on the verbal section, are fast and work well. Learn these. They make a difference.
During a 5 – 10 week period leading up to the test, take 2 timed practice tests per week. Do one of the tests in one sitting (with breaks calibrated to match the real SAT.) I recommend setting aside a weekend morning each week for this beast. I also recommend the public library as a better location than your noisy house. The other timed test you can be split up. For example, tackle a timed math section one day and a timed verbal section another. Spread these out. If you attempt too much review, you'll burn out and stop working all together. Similarly, if you don't take the timed test seriously — and really concentrate — they don't help nearly as much. So set aside serious time for serious concentration.
Go back and review every single wrong answer. Taking the timed tests will get you used to working under pressure. To further improve your performance, however, it's crucial that after each timed session you review every single question you got wrong; determine why you got it wrong and why the right answer is right. This post-mortem is by the far the most effective tactic for improving your ability to consistently nail the harder questions.
(Bonus Tip: A reader wrote me this morning to reveal a twist to the wrong question review process. She recorded her wrong answers on note cards, and then did a quiz-and-recall review. As she took more practice tests, her pile of hard question note cards increased. Each day, she did a fresh Q-and-R on her trouble spots. The result? She claims that it quickly revealed patterns that immediately improved her performance. Her math score — where she was having the most trouble — bounced up 150 points in one week!)
If you find this workload too brutal, start earlier and spread it out more. For example, there would be nothing wrong with starting review now for the October test date. You can do only one timed test per week, and take some weeks off. Don't make the mistake of equating pain with quality review. The two are unrelated.
But What About…
A few final notes. In my (unverified) opinion, this technique works better than the Princeton Review prep courses. The students who benefit from the prep courses do so because it forces them to take timed sample tests. If you can do practice tests on your own (and follow-through on the resulting post-mortems), you won't gain anything new from the formal courses.
Second, I'm not a huge believer in memorizing vocabulary lists. The only way to hit the 700 range or above on the verbal section is to read, a lot. If you're younger, start reading as much real books as possible. (Like many high-scorers on the verbal section I begun reading adult fiction and non-fiction early.) Memorizing words might boost a not high score to slightly less not high, so if that's you, then, I guess, you can memorize if you want. On the other hand, if you're a bookworm, you'll probably find that with practice your scores get where you need them to be without memorization.
Whatever you do, however, don't buy those stupid fake novels with SAT prep words bolded. They're a waste of print and an insult to anyone planning on attending college. If you're in doubt, drop me a line, I'm happy to recommend any number of real books that will boost your vocabulary while having the advantage of not being terrible.
What worked for you?