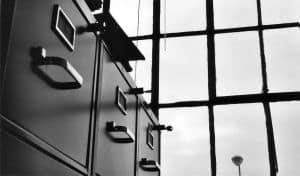 Filing Sucks
To the novice undergraduate, the need for a filing system reeks of overkill. "I'm a student, not a business executive," smugly chirps the oddly matter-of-fact hypothetical freshman I'm currently imagining. "Folders suck ass!"
Oh, poor, naive, hypothetical freshman. How little you understand. Every class is going to give you paper to handle — lots of it. You are going to print hundreds of pages of readings. You will have syllabi and notes and articles you xeroxed and study guides. They are all important. They all need to be saved and accessed later.
You will constantly find yourself in situations in which you are late to class and desperate to find that one crucial handout that you absolutely need but know you will never find amidst the post-apocalyptic rubble that defines the area formerly known as your desk. Yes, my unnecessarily profane hypothetical friend, though folders may, indeed, "suck ass," without some filing system you will face constant organzational headaches.
A Non-Sucky Solution to Your Filing Woes
In this post I describe a system I call bare naked filing. It is the absolute simplest possible way to keep track of paper. It requires minimal time. Almost no thinking. And is incredibly easy to maintain. It is what I use at MIT (after several failed attempts to make peace with labelled hanging folders) and it's saved my ass numerous times. I swear by it.
Bare Naked Filing
The bare naked filing system works as follows:
Buy a box of 100 plain manila file folders. Put it near your desk.
When you come back from class with something important, jam it in a new folder and drop it on a pile.
Bonus points for scribbling a name on the folder.
Assuming you were able to follow the intricacies of this scheme, let me add two super advanced tips:
If you think an existing folder will work for a piece of paper, stick that paper in the existing folder.
At the end of the term, dump out the folders, cross out the labels, and put them back in the box. You can now use them again during the next term.
That's it. Though you're free to customize. (Once, in a fit of organizational mania, I switched to using two piles. One for classes. One for other stuff. Those were heady times.)
The Magic of Nude Filing
Yes, it's simple. But trust me, anything more complicated and you won't make it past midterms without resorting to your somewhat less rigorous "toss randomly on floor" method. Every time I'm late to class and am able to just grab a folder from that pile near my desk, and know that it contains everything I need, I give thanks for the wonders of bare naked filing.
It's so dumb that it actually works…