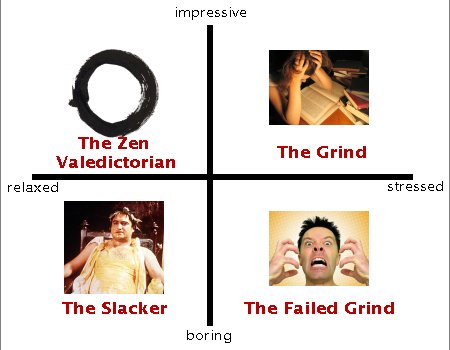 The Four Types of Students
At the risk of being reductive, I argue that we can plot all possible types of college students on two spectra: the first spans from totally relaxed to totally stressed; the second spans from boring to really impressive. In the figure presented above, I present these two spectra as the axes of a two-dimensional plot. Four quadrants are exposed. For each quadrant, I added a description of the type of student who goes through college with the identified combination of traits.
Three of these types should be familar…
The Grind. (Impressive/Stressed) This type of student is overloaded with activities and supercharged course loads and triple majors and would die before accepting a "B." Some are driven by parental pressure. Some by ambition. Their student life is demanding. Many burn out. But those with the constitution to stick it out end up with impressive post-grad opportunities.
The Failed Grind. (Boring/Stressed) Not every grind-wannabe can keep up with this load. There is an art to pushing yourself to the limit without breaking down. Many push a little too hard in the wrong places and end up with erratic grades, a confusing mash of dropped activities and failed schemes, and a nice big bloody ulcer. The failed grind often feels despair or depression. Their health flags. They hate school. Everything you don't want.
The Slacker. (Boring/Relaxed) An alternative to the high-stress end of the spectrum is to just say "screw this" and focus on winning your house's next pong tourney. It might be hard to find a job after you graduate, but, hey, life's too short for such loser-ass talk. Let's go drink some more terrible beer.
These three students types are well-known. What makes the quadrant diagram interesting, however, is that it exposes a fourth region — one that is both relaxed and impressive. We are not used to considering this combination of traits. Indeed, many students have a sort inborn blindness to its possibility. When they look at this diagram they look past the upper left corner; as if it doesn't exist. It's simply not a possibility. Conventional wisdom says you have to choose between being a grind and a slacker. And that's that.
But why must we ignore the upper-left? Most students, if pressed, will give the following explanation:
To be impressive requires that you do a lot of hard things. This is stressful.
Let's push farther. How do you know that's true? Again, when pressed, most students will admit that this seemingly iron-clad dictate is, in reality, formed from intermittent anecdotal feedback and conventional wisdom. Weak support.
I am officially putting this fear-based, blinded reasoning on notice. No more! It's time to move beyond the dialectic of the grind and the slacker, and to embrace the possibility of the upper-left quadrant. It's time for…
The Zen Valedictorian
I call the type of student who lives in the promised land of relaxed impressiveness the Zen Valedictorian. This idea is not new to Study Hacks readers. I have been posting for weeks about many of the ideas supporting this philosophy. But I thought it was time to give the concept a formal name (and it's own post category tag so you can quickly identify all relevant articles.)
I summarize this philosophy as follows…
If you understand…
your interests and values,
the psychology of impressiveness, and
how to be productive and study efficiently,
then you can construct a student lifestyle that is…
relaxed and free of chronic stress,
intellectually engaging,
wildly social and exciting, and
just as impressive as if you had followed the path of the grind.
We can sum this all up in the following pithy motto:
Do Less. Live More. Get Ahead.
How does this work? I've been seeking answers to these questions for years. My conclusion: adopting the zen valedictorian lifestyle is not trivial. It requires strong will and great self-awareness. But it is, I assure you, worth it. We will continue to explore it's nuances in the upcoming months.
A Brief Review of What's Been Said So Far
To get us all on the same page, I thought I would conclude with some pointers to the relevant discussions that we've had over the past several weeks on this topic. Much more to follow soon…
As always, I thrive on your reactions and extensions, so let me know what you think…
[Update 4/25/2008: I've posted a follow-up article that lays out the key high-level strategies for achieving the Zen Valedictorian lifestyle. This is a good place to start. Beyond that, follow the Zen Valedictorian post category to keep up with relevant articles as they appear.]