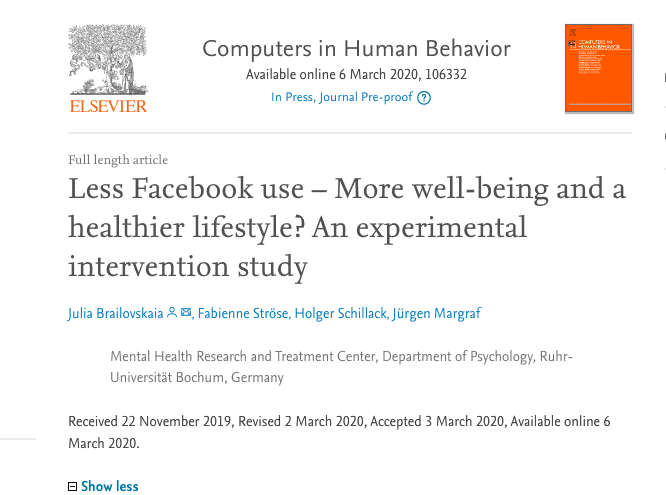 Last week, I wrote about a paper appearing in the American Economic Review that conducted a randomized trial to measure the personal impact of deactivating Facebook. A few days later, a different study was published, this one appearing in the journal Computers in Human Behavior, that also deployed a randomized trial to measure the impact of reduced Facebook use.
The authors of this new paper, a group of psychologists from Ruhr-Universität Bochum, in Germany, randomly split a group of roughly three hundred volunteers into an experiment and control group. The participants in the experiment group were asked to reduce their daily Facebook use, while the control group made no changes.
Personal impacts were measured with online surveys administered at regular intervals. To summarize the paper's main findings:
"Life satisfaction significantly increased, and depressive symptoms significantly decreased. Moreover, frequency of physical activity such as jogging or cycling significantly increased, and number of daily smoked cigarettes decreased. Effects remained stable during follow-up (three months). Thus, less time spent on Facebook leads to more well-being and a healthier lifestyle."
Based on what I observed researching Digital Minimalism, a key dynamic at play in these numbers is likely the shift from Facebook to more rewarding activities. This is what participants in my own study kept reporting: it's not that the time they spent on social media was always negative on its own, the problem was instead the time social media took away from other activities that are more positive.
A deep life, in other words, tends to minimize the hours spent staring mindlessly at screens, but it does so not because the screens are bad, but because there's too much else good going on to spare the attention.