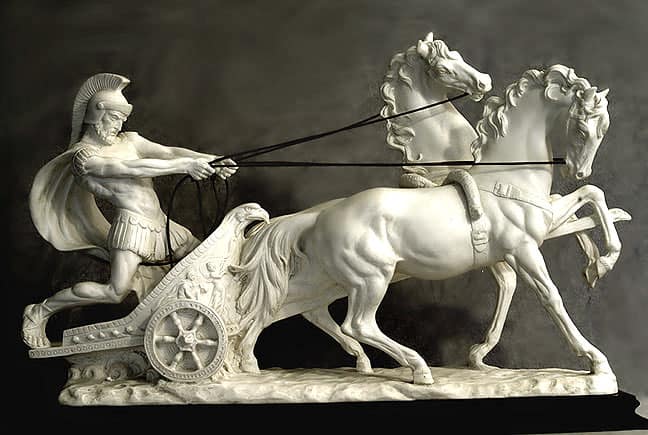 One of the more profound representations of the soul in the Western Canon is the Chariot Allegory from Plato's Phaedrus dialogue:
"[T]he charioteer of the human soul drives a pair, and secondly one of the horses is noble and of noble breed, but the other quite the opposite in breed and character."
As elaborated by the character of Socrates in the dialogue, the charioteer represents our soul's reasoned pursuit to cultivate a worthy life. This task requires the charioteer to allow the noble steed, representing our moral intuitions, to lead the way, while preventing its ignoble partner, representing our base instincts, from drawing the soul off course.
In Digital Minimalism, I use this allegory to help understand how to navigate both the promises and perils of modern technology. The minimalist, I argue, deploys technology in specific, intentional ways with the goal of empowering the noble steed. The maximalist, by contrast, deploys technology casually, allowing it to immeasurably boost the strength of the other horse.
I'm bringing this up now because it occurred to me that these ideas have probably never been more relevant than amidst the anxiety caused by the coronavirus pandemic.
In this current situation, for most people, the constant monitoring of online news about the virus is providing pure fuel to the ignoble steed, dragging the allegorical chariot away from what's good and awe-inspiring about life — even during turmoil — and toward bottom-less anxiety and pseudo-paralysis. The ignoble steed always craves more of this attention-catching information. What if something extra terrible just happened? What if I find a link that makes me feel better? But in this feverish pursuit, the charioteer loses control.
There is, I propose, a simple two-part solution to this state of affairs.
First, check one national and one local new source each morning. Then — and this is the important part — don't check any other news for the rest of the day. Presumably, time sensitive updates that affect you directly will arrive by email, or phone, or text.
This will be really hard, especially given the way we've been trained by social media companies over the past decade to view our phone as a psychological pacifier.
Which brings me to the second part of the solution: distract yourself with value-driven action; lots of action. Serve your community, serve your kids, serve yourself (both body and mind), produce good work. Try to fit in a few moments of forced gratitude, just to keep those particular circuits active.
This doesn't mean abandon technology. This current moment reveals many ways to deploy tech to strategically boost the noble steed.  Our modern tools enable you to video conference more often with friends and family, or to dive into deep topics that have nothing to do with flu viruses, or to coordinate with your community and find out how you can be useful.
This, then, is what digital minimalism has to say about pandemics. You cannot take your technology lightly. You're the charioteer facing two horses: it's up to you which one you want to empower.
#####
To help practice what I preach, my plan is to post more often here in the near future, but on topics that have nothing to do with the coronavirus. With this in mind, if you have any questions you've always been meaning to ask me about any of the topics I write about — technology, productivity and the deep life — send them to [email protected], I'll try to answer some of them in the days ahead.